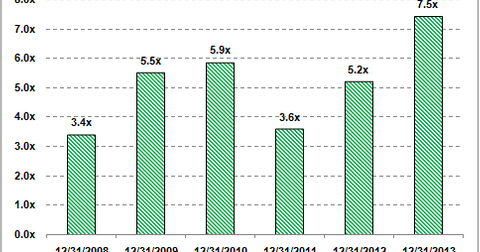 Why did Omega Advisors buy Freeport-McMoRan Copper & Gold shares?
By Samantha Nielson

Oct. 11 2020, Updated 11:08 a.m. ET
Omega Advisors Inc. is a New York–based investment advisory firm founded in 1991 by Leon G. Cooperman. Omega has approximately $10 billion under management (as of November 30, 2013).
Abbreviated financial summaries and metrics for these securities are included below. Detailed analysis and recommendations require a subscription (more information at the bottom of the article).
Omega Advisors started new positions in Sprint Corp (S), Freeport-McMoRan Copper (FCX),  HCA Holdings Inc. (HCA), and Realogy Holdings Corp. (RLGY) and it sold Occidental Petroleum (OXY), Wells Fargo & Company (WFC), and Crocs Inc. (CROX).
Why buy Freeport-McMoRan Copper & Gold (FCX)?
Omega started a 1.43% position in Freeport-McMoRan Copper & Gold.
Article continues below advertisement
Freeport-McMoRan Copper & Gold Inc. reported a 40% increase in revenue, to $6.17 billion year-over-year, beating analyst estimates. Net income slightly declined, to $821 million ($0.79 per share) for 3Q 2013, compared to $824 million ($0.86 per share) for third-quarter 2012. It said its results reflected strong operating performance from its global mining business together with an impressive and significant contribution from its recently acquired oil and gas operations. During 2Q 2013, FCX completed its $19 billion acquisitions of Plains Exploration & Production Company (PXP) and McMoRan Exploration Co. (MMR), adding an attractive oil and gas portfolio to its global mining business.
It said in its earnings call that average recorded copper and gold prices were below the levels seen for 3Q last year, while oil prices were strong in the quarter. FCX said capital expenditures are expected to approximate $5.5 billion for 2013. It said it's taking steps to achieve significant reductions and deferrals of capital expenditures as well as operating, exploration, and other costs following its July 2013 announcement of $1.9 billion in targeted reductions for 2013 and 2014. It's reviewing its portfolio of assets for opportunities to accelerate its deleveraging plans through potential asset sales, joint venture transactions, or further adjustments to capital spending plans. It said it's committed to achieving previously announced debt reduction targets and providing attractive cash returns to shareholders.
It recently declared a cash dividend of $0.3125 per share payable on February 3, 2014, to holders of record as of January 15, 2014.
Analysts have raised estimates for the stock, as they expect the company to benefit from resource diversification by investing more in oil and gas assets in an environment where commodity prices are low.
FCX is a U.S.-based natural resource company with an industry-leading global portfolio of mineral assets, significant oil and gas resources, and a growing production profile. FCX is the world's largest publicly traded copper producer.
Article continues below advertisement
According to hedgefundletters.com, Omega Advisors primarily invests in domestic public equity and dabbles in markets such as bonds and commodities. When the fund focuses on investing in value equities, it uses a combination of a top-down approach, to carefully choose the sector, and a long-short fundamental analysis. To create his portfolios, Leon G. Cooperman takes a bottom-up approach to form his portfolios with the S&P 500 index as the benchmark.
Cooperman was born in New York and as an undergraduate at Hunter College, he joined and was an active member of Alpha Epsilon Pi. After graduating, he became a Xerox quality control engineer in 1965. He later received his M.B.A. from Columbia Business School, graduating in 1967. After 25 years of service, Leon Cooperman retired in 1991 from his positions as general partner of Goldman, Sachs & Co. and as chairman and chief executive officer of Goldman Sachs Asset Management in order to set up Omega.