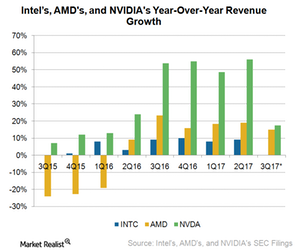 Finding the Focus of Intel's Recent Announcements
By Puja Tayal

Updated
Technology shift and Intel
Until now, Intel (INTC) has dominated the semiconductor industry through huge investments in manufacturing processes and R&D (research and development). These investments have given Intel a technology advantage over rivals, helping it command a premium price for its products and earn high margins. Very few semiconductor companies operate at a 60% gross margin and a 28% operating margin.
The industry (QQQ) is now witnessing its fourth technology shift to AI (artificial intelligence) and IoT (Internet of Things), and Jeffries believes that Intel may lose from this shift. But Intel has been leveraging its advantages in the PC (personal computer) and data center markets to tap the AI and IoT spaces.
Article continues below advertisement
Intel's focus area
Intel's top four priorities are to maintain its strength in the PC market, grow its data center and adjacencies businesses, expand its IoT business, and expand the application of its complementary products like memory and FPGAs (field-programmable gate arrays). This could expand the company's total addressable market to $220 billion by 2021.
Over the past few months, Intel has made several announcements related to product development, partnerships, acquisitions, and investments—all focused on AI, IoT, and autonomous cars.
Intel's strategy
In the past two years, Intel acquired FPGA giant Altera, AI startups Movidus and Nervana, and ADAS (advanced driver assistance system) giant Mobileye to expand its AI and autonomous car efforts. In September 2017, Intel Capital announced $1 billion funding for AI startups. Intel also announced its partnership with Alphabet's (GOOG) Waymo.
Intel unveiled its AI-centric processors like the Nervana Neural Network Processor for data centers, and Myriad X Vision Processing Units for smart gadgets. The company also made advances in neuromorphic and quantum computing. These technologies, if brought into implementation, could take computing to the next level.
Big revenue growth
Despite these efforts, Intel's revenue is likely only to grow by single digits, while NVIDIA's (NVDA) and Advanced Micro Devices' (AMD) revenues are expected to grow by double digits. While NVIDIA and AMD have annual revenues of close to $9 billion and $5 billion, respectively, Intel has annual revenues of ~$61 billion.
While it could take years to understand the success of Intel's organic and acquisition efforts, one thing is sure that the company's efforts can't be ignored.
Keep reading this series (below) for a closer look at Intel's AI efforts and its impact on the company's earnings.