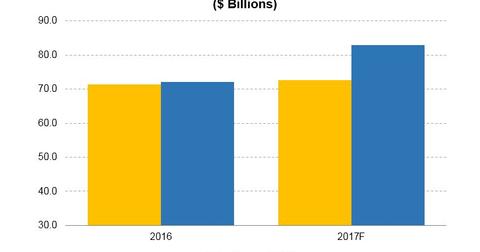 Examining the Effects of Facebook's Willow Campus
By Ruchi Gupta

Oct. 16 2017, Updated 6:37 a.m. ET
Willow Campus
Article continues below advertisement
Facebook, the landlord
This company town venture will effectively make Facebook a landlord in the lucrative Silicon Valley real estate market. There is a short supply of housing in Silicon Valley. In fact, apartment rent fees in the region are sky high. According to a CNBC report, San Francisco apartment rent has risen almost 50% since 2010, while home prices have risen ~98% since 2009.
This situation implies that while Facebook is trying to solve the housing crisis in Silicon Valley, it is also set to gain from the region's strong housing demand through its Willow Campus venture. It will be interesting to see how the company town venture impacts Facebook's financials after 2021, when the project is due for completion.
Boosting staff productivity
Facebook has also portrayed its Willow Campus project as a solution to San Francisco's transportation problem, where traffic congestion causes a loss of work hours as employees commute to their corporate headquarters. The campus will put Facebook employees closer to the company's headquarters, reducing commute frustration and potentially boosting employee productivity.
As Facebook's core online advertising industry heats up with competition, the company needs the most from its staff to stay ahead of rivals such as Alphabet's (GOOGL) Google, Twitter (TWTR), and Snap (SNAP). The US (SPY) digital advertising market grew 22% to $73 billion in 2016, and is expected to grow 16% to $83 billion this year, according to eMarketer.