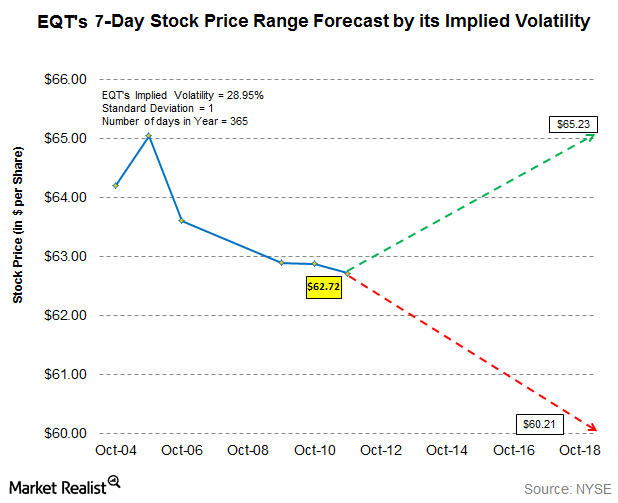 EQT's Implied Volatility Trends: What We Can Expect
EQT's implied volatility
EQT's (EQT) current implied volatility is 29%. While EQT's peer Cabot Oil and Gas (COG) has a lower implied volatility of 21.7%, Chesapeake Energy (CHK) has a higher implied volatility of 52.6%. In comparison, the Energy Select Sector SPDR ETF (XLE) has an implied volatility of ~13%.
Implied volatility is an options model–based estimate of a stock's future volatility. A higher implied volatility means less expected stability in a stock. It also means investors expect the stock to move significantly in either direction, translating into a higher implied risk.
Article continues below advertisement
Forecasting stock price range
Based on EQT's implied volatility of ~29% and assuming a normal distribution of stock prices with one standard deviation (probability of 68%), we can forecast that in the next seven days, EQT stock could close between $60.21 and $65.23.
To learn more about EQT, read Could Jana Partners Foil the EQT–Rice Energy Acquisition?