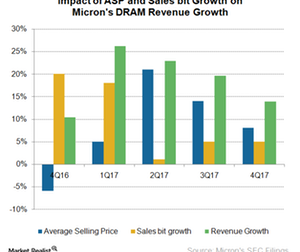 DRAM behind Micron's 16-Year High Fiscal 4Q17 Earnings
By Puja Tayal

Updated
Micron's DRAM business
Micron Technology (MU) stock hit its all-time high of over $40 a few days after the company released its fiscal 4Q17[1. fiscal 4Q17 ended August 31, 2017] earnings. After 16 years, these earnings were mostly driven by strong DRAM (dynamic random access memory) numbers. Micron earns 60% of its revenues from DRAM, but in fiscal 4Q17 this ratio increased to 66%.
Article continues below advertisement
DRAM earnings
Micron's DRAM revenue is a function of bit growth (volume) and ASP (average selling price), both of which were in the company's favor. On a sequential basis, its DRAM volume rose 5%, and its ASP rose 8%. This trend resulted in 14% revenue growth in fiscal 4Q17.
Micron's total DRAM revenues reached $4 billion in fiscal 4Q17, of which ~30% came from the server, 20% from mobile, 25% from PC, and another 25% from specialty DRAM.
On a YoY (year-over-year) basis, DRAM revenues rose 111%, ASP rose 57%, and sales bit rose 32%. This shows that Micron's strong earnings were mostly driven by increasing DRAM prices.
Micron also improved its DRAM non-GAAP[1. generally accepted accounting principles] gross margin from 20% in fiscal 4Q16 to 59% in fiscal 4Q17. Gross margin is a product of ASP and cost per bit.
Cost per bit
Micron reduced its DRAM cost per bit 20% YoY in fiscal 4Q17 as the company realized the benefits of transitioning to the 20nm (nanometer) node. In fiscal 2018, the company would transition to 1X (or 18nm) DRAM, which would further reduce the DRAM cost per bit more than 20%.
Even if DRAM ASP remains flat in fiscal 2018, the company's DRAM gross margin would improve. Samsung (SSNLF) has already started mass production of 1X DRAM.
Article continues below advertisement
ASP 
Micron's DRAM ASP is impacted by contract prices and not spot prices. Amid rising prices, PC and mobile vendors started entering longer-term contracts with Micron and other memory makers to secure supply. However, spot prices are a good indicator of future contract prices, and DRAM spot prices increased in August 2017.
Micron's DRAM bit growth
Micron's DRAM bit growth exceeded the industry's average growth due to strong demand from servers and the cloud. The demand was supported by a 50% YoY increase in DRAM content per cloud server. Micron also witnessed strong growth from its graphics customer NVIDIA (NVDA), which launched its high-end GPUs (graphics processing unit) in 2017.
Micron expects the DRAM market to remain moderately undersupplied in calendar 2018 as well, partly due to the data center and cloud computing trends. While demand remains strong, Micron expects its DRAM bit growth to be lower than the industry average in fiscal 2018 as it ramps up production of 1X DRAM.
Next, we will look at the DRAM market outlook.