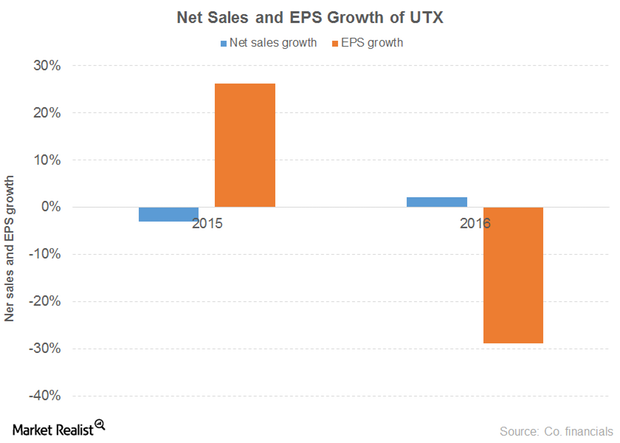 Why UTX's Dividend Yield Is on a Downward Trajectory
By Amanda Lawrence

Oct. 20 2017, Updated 7:41 a.m. ET
Net sales and EPS performance in 2015 and 2016
United Technologies (UTX) posted 2% net sales growth in 2016 after a 3% decline in 2015, as costs remained relatively uniform. The company's UTC Climate, Controls & Security, Pratt & Whitney, and UTC Aerospace Systems segments saw growth in 2016 after a decline in 2015. In contrast, the company's Otis segment posted a decline in both 2015 and 2016. US operations saw growth in both 2015 and 2016, while the company's Europe and Asia-Pacific regions noted a decline in 2015. Other international operations noted growth in 2015. In 2016, Europe posted growth, while Asia-Pacific and others posted declines.
Article continues below advertisement
The company's gross profits rose 1% in 2016 after an 8% decline in 2015. Its operating profit in 2016 rose 12% after a 24% fall in 2015. Operating expenses dropped in 2015 before gaining in 2016. Interest expenses also rose in 2016 after declining in 2015. However, the company noted a 29% decline in 2016 EPS after a jump of 26% in 2015. The 2015 performance also resulted from gains on asset disposition. Share buybacks further enhanced the EPS numbers.
Net sales and EPS performance in 1H17
United Technologies saw 3% growth in 1H17 net sales. Both product and service sales drove this growth. Gross profit and operating profit improved 1% and 6%, respectively. Operating expenses rose, while interest expenses fell slightly during this period. As a result, the company's EPS rose 15%. This increase was also supported by share buybacks.
Dividend yield
The company has seen growth in its annual dividends. However, the dividend yield has gradually slipped to 2.3% as prices have gained 8.3% YTD. These figures compare to a dividend yield of 2.3% and YTD price gains of 15.7% from the Dow Jones Industrial Average (DJIA-INDEX) (DIA). The S&P 500 (SPX-INDEX) (SPY) has a dividend yield of 2.3% and YTD price gains of 14%. The NASDAQ Composite (COMP-INDEX) (ONEQ) has a YTD price gain of 22.7%. United Technologies has maintained a good free cash flow balance. However, the free cash flow balance has fallen.