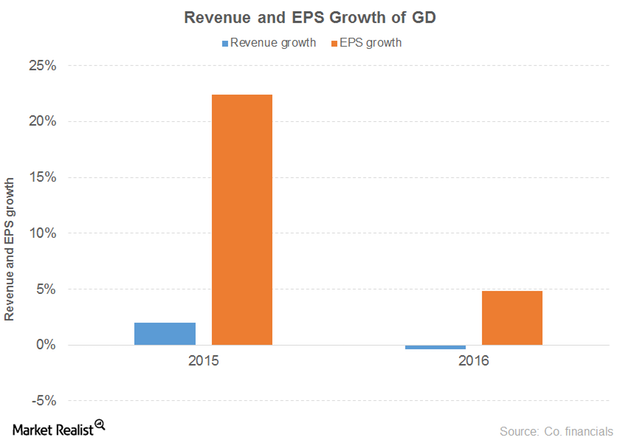 How Does General Dynamics' Dividend Yield Look?
By Amanda Lawrence

Oct. 24 2017, Updated 7:35 a.m. ET
Revenue and EPS performance in 2015 and 2016
General Dynamics (GD) is an international aerospace and defense company. Its revenues were flat in 2016 after 2% growth in 2015. Aerospace and marine systems drove the 2015 growth offset by combat systems and information systems and technology. Information systems and technology and marine systems recorded growth in 2016, which was offset by the other segments. The company's US, Europe, Asia-Pacific, Africa and Middle East, and South America regions drove the 2015 growth.
Article continues below advertisement
Gross profit rose 2% in 2016 against 4% growth in 2015. Costs rose slightly in 2015 before dropping a bit in 2016. Operating earnings rose 3% in 2016 compared to 7% in 2015 due to a decrease in operating expenses. Interest costs have risen in 2016 after decreasing in 2015. All of these factors led to 5% EPS growth in 2016 after 22% growth in 2015. Share buybacks further enhanced the EPS numbers.
Revenue and EPS performance in 1H17
The company posted a 1% revenue decline in 1H17. Aerospace and combat systems recorded growth in 1H17, which was offset by other segments. Costs remained relatively uniform. Gross profit rose 6% and operating earnings rose 7%. Operating expenses also remained almost flat. All of these factors translated into 14% EPS growth. Interest expenses rose during the period.
Dividend yield
The company has increased its dividends. Its dividend yield has slipped to 1.6% as prices have gained 23.6% on a YTD basis. The Dow Jones Industrial Average's (DJIA-INDEX) (DIA) dividend yield was 2.3% with YTD price gains of 15.7%. The S&P 500 (SPX-INDEX) (SPY) has a dividend yield of 2.3% and YTD price gains of 14%. The NASDAQ Composite (COMP-INDEX) (ONEQ) has a YTD price gain of 22.7%. General Dynamics generates enough free cash flow to pay its dividends. The free cash flow balance has reported declines over the years.