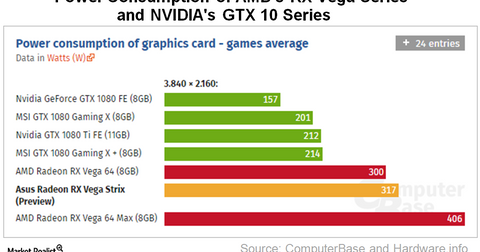 Did AMD's Vega Cards Live Up to the Hype?
By Puja Tayal

Updated
A look at AMD's Vega cards
Advanced Micro Devices' (AMD) long-awaited next-generation Vega GPUs (graphics processing units) arrived in mid-August 2017. The company launched the first set of Vega cards—Radeon RX Vega 64 and RX Vega 56—to compete with NVIDIA's (NVDA) year-old Pascal-based GTX 1080 and 1070.
The RX Vega 64 has two versions—air-cooled and water-cooled. The RX Vega 64 is priced at $499, similar to the GTX 1080, whereas the RX Vega 56 is priced $100 below the GTX 1070's price.
Article continues below advertisement
Third-party review of gaming performance 
PCGamesN reviewed AMD's Vega 56 GPU and found that it outperformed NVIDIA's GTX 1070 in games built using the DirectX 12 API (application programming interface) but underperforms GTX 1070 for the last-generation DX11.
PCGamesN stated that the DirectX 12 is just a year old and that a majority of games are still being built on the older DX11. There is a high probability that most of the games that would launch over the next six months would be built on the DX11. The DirectX 12 may be more widely adopted in 2018. Hence, PCGamesN recommends that gamers buy the Vega 56 after a six-month period.
Third-party reviews on power efficiency
Third-party reviews showed that AMD's Vega cards do match or come close to the performance of NVIDIA's GTX 10 series, but they lag behind in terms of power efficiency. However, Vega did not live up to the hype created around the card that it would threaten NVIDIA in the high-performance GPU market.
AnandTech noted that the Vega 56 is only 8% faster than the GTX 1070. This is not a significant performance gain compared to NVIDIA's GPUs. Hence, AMD has resorted to its fallback strategy of delivering similar performance at a lower price. The Vega 56 delivers 90% performance of the GTX 1070 at just 80% of the price.
NVIDIA is still ahead of AMD, as the former launched a high-end version of GTX 1080—the GTX 1080 Ti and Titan XP in March and April 2017, respectively. The GTX 1080 Ti is priced at $699, similar to that of the Vega 64's liquid-cooled version. However, the Ti is 35% faster and 30% more power-efficient than the Vega 64. Here, AMD loses the opportunity of delivering better value for the money.
AMD responded to the chatter around power efficiency, which we'll explore in the next part.