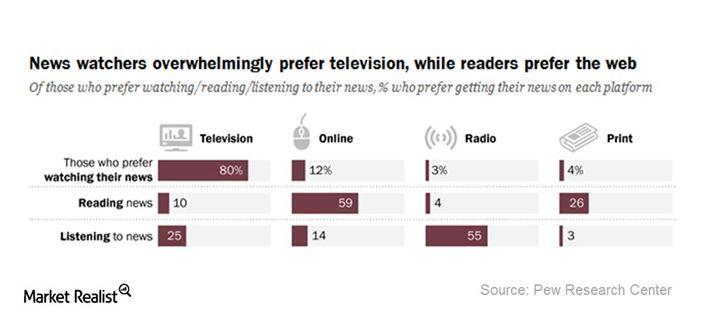 Did Alphabet Just Step Up a News Distribution War?
By Neha Gupta

Oct. 5 2017, Published 2:23 p.m. ET
Apple vying for news delivery dollars
With more and more people consuming news online, digital news delivery has become battlefront, pitting Internet giants such as Alphabet's (GOOGL) Google, Facebook (FB), and Twitter (TWTR) against one another.
But these three giants are not the only ones trying to control the online news delivery market. Apple (AAPL) is eager to diversify its revenue streams beyond iPhone sales and has already convinced several large news outlets to distribute their articles through its Apple News platform.
Article continues below advertisement
News as source of traffic
For Google, Facebook, and Twitter—which rely on advertising as their primary source of revenues—news is an important source of traffic. As such, they are leaving nothing to chance in their efforts to grow their influence in the news delivery market. Facebook, for instance, has in recent years rolled out new tools and services designed to appeal to news publishers and consumers.
According to a 2016 report by Pew Research Center, Americans overwhelmingly prefer the Internet for readable news.
Waging news delivery war
Google's termination of its controversial "first click free" model could help it draw more high-quality news publishers to its platforms and mitigate threats from its rivals in the news distribution business. Given the high-demand for news online, news will be one of the key drivers of digital advertising spending.
According to market intelligence firm eMarketer, total US (SPY) digital ad spending will likely rise 16% this year to $83 billion.