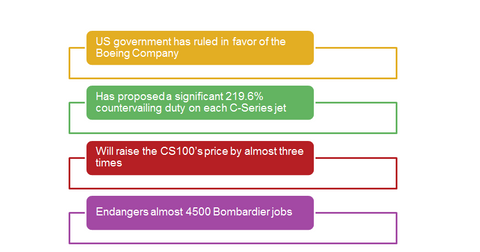 Could Delta Air Lines Pay Huge Tariffs on Bombardier Jets?
By Ally Schmidt

Updated
Delta places order for Bombardier jets
In December 2016, Delta Air Lines (DAL) placed an order for 75 CS100 Bombardier jets. This huge order was the first for these jets and a huge relief for Bombardier that had already overrun its cost of production.
Due to this cost overrun, Bombardier received earlier funding from the Canadian government. The sale to Delta was at an extremely low price, thanks to subsidies received by Bombardier.
That led to Boeing alleging that Bombardier dumped the C-Series in the United States. It also led to the filing of a fair-trade complaint. In its complaint, Boeing asked for an 80.0% duty to be imposed on the jets.
Article continues below advertisement
The United States imposed duties on Bombardier
In response to Boeing's complaint, the US Department of Commerce imposed a huge 219.6% countervailing duty on Bombardier jets in early October 2017. That will raise the price of the jets almost three times. The department followed that up with a 79.8% anti-dumping duty, taking the total to a 300.0% fine for each CS100 jet.
Who will pay?
Bombardier has refused to pay the extra costs for the jets, and so has Delta. The proposed fine, however, will not come into effect until the ITC (US International Trade Commission) confirms it early next year. Both Delta and Bombardier remain confident that the ITC will not affirm it. The confidence stems from the fact that Boeing neither competed for the Bombardier order nor has a jet to offer in that category.
Investors can gain exposure to Delta Air Lines stock by investing in the First Trust Industrials/Producer Durables AlphaDEX ETF (FXR), which invests 2.0% of its portfolio in DAL. It also invests 2.0% in JetBlue (JBLU), 2.0% in United Continental (UAL), 1.9% in Alaska Air (ALK), and 1.8% in Spirit Airlines (SAVE).
Let's move on to the next part and look at Delta's increasing debt.