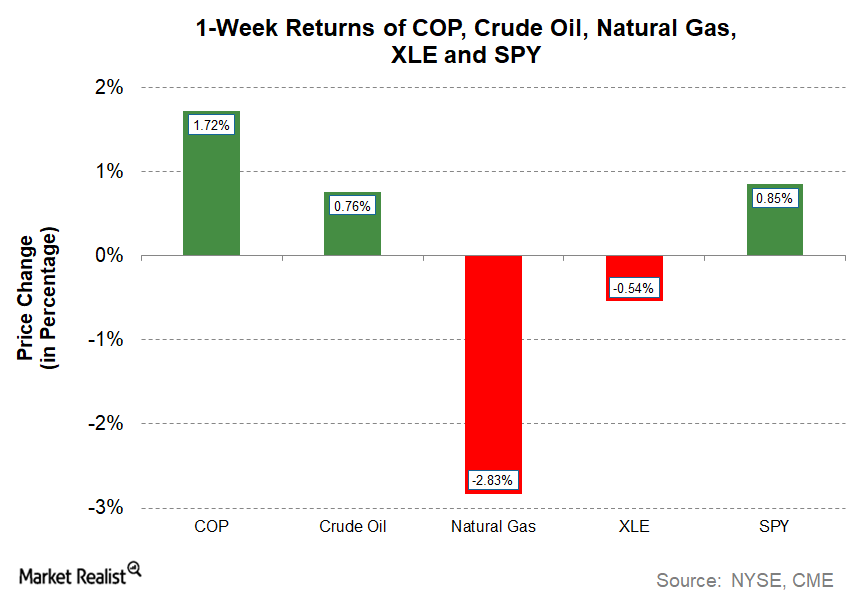 ConocoPhillips Outperformed Crude Oil: Positive for Its Uptrend
Crude oil rose, natural gas fell
For the week ending October 20, 2017, crude oil (USO) prices rose from $51.45 per barrel to $51.84 per barrel—an increase of 0.76%. Crude oil prices increased in the first three days of the week, but fell on Thursday. Crude oil gave up most of the gains from earlier in the week. On Friday, crude oil prices fell again. However, there was a strong reversal later in the day that helped crude oil finish the week with modest gains. On October 20, 2017, crude oil closed at $51.84. Its 200-day and 50-day moving averages stand at $49.51 and $49.48, respectively. Although crude oil's 50-day moving average is below its 200-day moving average, the 50-day moving average is trending up. It's about to cross above the 200-day moving average. Natural gas (UNG) prices were down last week. Natural gas prices fell from $3.000 per MMBtu (million British thermal units) to $2.915 per MMBtu.
Article continues below advertisement
ConocoPhillips stock trends upward
Due to rising crude oil prices, ConocoPhillips's stock price rose 1.72% last week or from $49.40 to $50.25. After trading in a very narrow range for the first four days of the week, most of the stock's weekly gains came on Friday when it rose 1.1%. Since August 22, ConocoPhillips stock has been in a strong uptrend. So far, the stock has risen ~19%.
ConocoPhillips will report its 3Q17 earnings on October 26, 2017, before the market opens. For 3Q17, excluding any one-time items, Wall Street analysts' current consensus earnings per share estimate for ConocoPhillips is $0.04. Read Will ConocoPhillips Report Profits Again in 3Q17? to learn more about ConocoPhillips's upcoming 3Q17 earnings expectations.
Peers
Despite rising crude oil prices last week, the Energy Select Sector SPDR ETF (XLE) produced a negative performance of -0.54%. XLE underperformed the SPDR S&P 500 ETF (SPY) last week, which rose 0.85%. Some of ConocoPhillips's peers that rose last week included Exco Resources (XCO) and Halcon Resources (HK). They rose ~10%, and ~7% last week.
In the next part, we'll look at ConocoPhillips's correlation coefficient with crude oil prices.