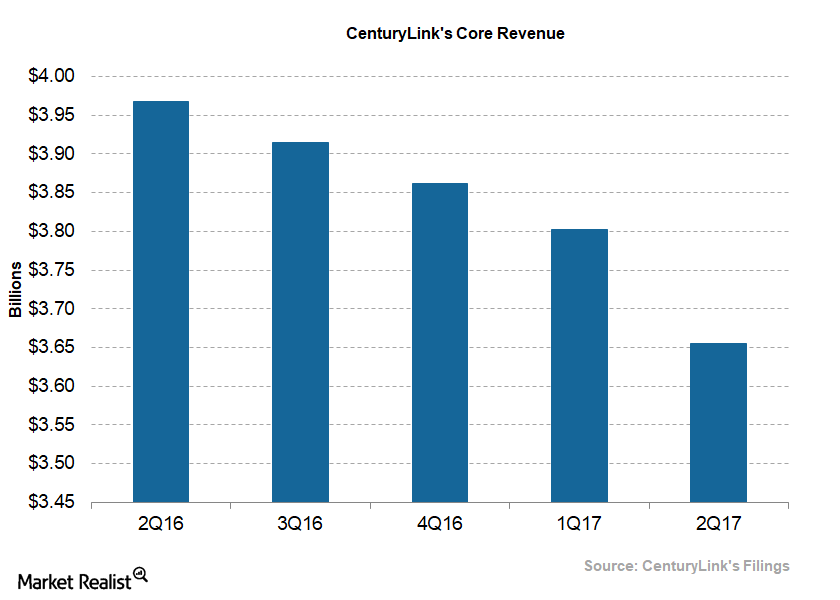 CenturyLink's Core Revenue Growth in 3Q17
CenturyLink's core revenues in 3Q17
In the previous part, we looked at the expected total revenue growth that we can anticipate from CenturyLink (CTL) in 3Q17. Now let's look at the company's anticipated core revenues.
Core revenue is defined as all strategic revenues plus legacy revenue streams, excluding data integration and others. CenturyLink's management expects to have core revenues of ~$3.6 billion–$3.7 billion in 3Q17.
In 2Q17, CenturyLink reported total core revenues of $3.7 billion, a ~7.9% reduction year-over-year (or YoY). This reduction in core revenues is primarily driven by the decline in legacy revenues and broadband subscribers being higher than expected.
CenturyLink's legacy revenues fell ~9.7% YoY to $1.7 billion. Meanwhile, the carrier's strategic revenues fell ~6.2% YoY to $1.9 billion in 2Q17.
Article continues below advertisement
Level 3 acquisition
Level 3 is considered the world's largest Internet backbone. So, CenturyLink's procurement of Level 3 could add value to its top line.
CenturyLink continually upgrades its network infrastructure to outdo its established competitors such as Verizon (VZ) and AT&T (T). In an effort to bolster its infrastructure, CenturyLink had procured $6.0 billion in landline assets from Sprint (S).