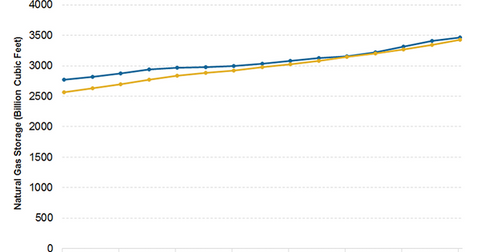 Can Natural Gas Inventory Rebalancing Affect Coal?
By Alexis Tate

Oct. 4 2017, Published 12:06 p.m. ET
Key coal indicators
To understand short-term market movements, it's a good idea to monitor the various factors that drive these movements. Weather is one parameter that affects prices in the coal industry (KOL). Its unpredictability makes it a crucial indicator of short-term price fluctuations. Other key coal indicators include natural gas prices and electricity consumption.
The inventory level is a major benchmark for demand and supply trends. It helps to understand commodity price fluctuations, which is a function of demand and supply.
Article continues below advertisement
Natural gas inventory
Let's look at the latest natural gas inventory report published by the EIA (U.S. Energy Information Administration) for the week ended September 22, 2017. The report for the previous week is generally published every Thursday
For the week ended September 22, natural gas inventory came in at 3,466 Bcf (billion cubic feet), which was higher than 3,408 Bcf one week earlier.
This inventory figure was 3.5% lower than 3,593 Bcf posted during the corresponding week in 2016. Nonetheless, it was 1.2% marginally higher than the five-year average of 3,425 Bcf.
Article continues below advertisement
Impact
Since April, inventory levels have been lower than they were in 2016 but higher than the five-year average. That pattern indicates that natural gas inventory is trying to rebalance toward average inventory levels in the previous years. It could mean that if the pattern continues, the inventory for October may drop below the five-year average. A fall in inventory levels below the five-year average could impact natural gas prices positively.
Higher natural gas prices could have a buoyant effect on coal (KOL) producers such as Arch Coal (ARCH), Cloud Peak Energy (CLD), Alliance Resource Partners (ARLP), and Natural Resources Partners (NRP). An increase in natural gas prices could urge utilities (XLU) to use less natural gas, and they may end up using more coal.
Next, let's look at the impacts of weather fluctuations on natural gas prices.