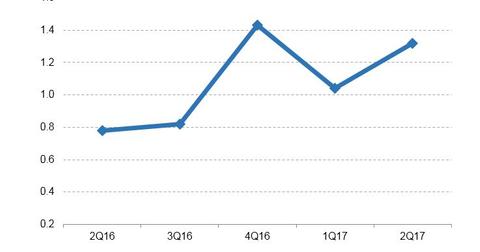 Can Facebook Maintain Its Earnings Track Record in 3Q17?
By Neha Gupta

Updated
Facebook and peers to report 3Q17 earnings
Facebook (FB) is scheduled to release its 3Q17 results on November 1, 2017, after markets close in the US (SPY). Its online advertising rivals Twitter (TWTR) and Alphabet (GOOGL) plan to release their 3Q17 reports on October 26. Snap (SNAP), Facebook's other online advertising competitor, has its 3Q17 report coming up on November 9.
Facebook has outperformed its EPS (earnings per share) expectations since at least 1Q14. In 2Q17, its EPS of $1.32 easily topped the consensus estimate of $1.13 and rose 69% year-over-year. Can Facebook keep beating its EPS expectations?
Article continues below advertisement
Analysts looking for EPS of $1.28
For 3Q17, analysts expect Facebook to post average earnings per share of $1.28. In 3Q16, Facebook posted EPS of $1.09, easily beating the consensus estimate of $0.96. The chart above shows Facebook's quarterly EPS trend line.
In 2Q17, in Facebook's EPS was partly supported by revenue growth, which was driven by strong advertising demand and favorable advertising prices. Facebook's average ad price increased 24% in 2Q17.
Impact of video investment on EPS
Because expenses have a direct effect on earnings, it should be interesting to see how Facebook's increased investment in video content impacts its EPS. As it runs out of newsfeed space to display ads, Facebook is investing in videos to expand its advertising opportunities.
Twitter and Google are also investing in videos for the same reason. According to a Wall Street Journal report, Facebook is willing to pay as much as $3.0 million per episode of broadcast-quality content.