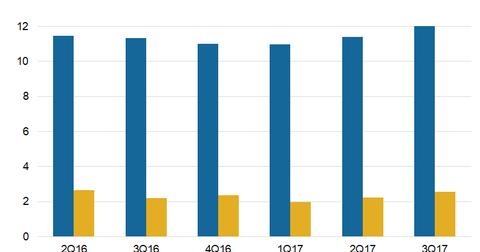 Business and Credit Card Loans Pushes for JPMorgan Chase's Banking
By Robert Karr

Updated
Key drivers
JPMorgan Chase's (JPM) Consumer and Community Banking division (or CCB) managed net revenues of ~$12.0 billion in 3Q17, an increase from ~$11.3 billion in 3Q16 and ~$11.4 billion in 2Q17.
The CCB division's revenues grew 6% on a year-over-year basis, mainly due to higher deposits, card sales, and rate margins. They were partially offset by lower mortgage banking numbers.
JPM's consumer and banking business grew 15% to ~$5.4 billion, helped by high deposits and higher net interest margins due to rate hikes. The division's mortgage banking revenues declined 17% to $1.6 billion due to lower spreads, servicing revenues, and production margins. The rising rates have impacted credit offtake in the space as rates of commercial and residential properties have stabilized.
The division's card, commerce, and auto solutions grew 7% in revenues to $5.1 billion. This increase was due to higher auto lease volumes, net interest income, and card loan balances. This increase was partially offset by origination costs.
Article continues below advertisement
Rising net
JPMorgan Chase's CCB division posted net income of ~$2.6 billion in 3Q17 compared to $2.2 billion in 3Q16 and ~$2.2 billion in 2Q17. The rise was mostly due to controlled spending and a rise in revenues. However, it was partially offset by a rise in provision for credit losses.
CCB's non-interest expenses remained stable at $6.5 billion in 3Q17 due to the inclusion of a $175.0 million non-operating item in 3Q16. Excluding this factor, expenses rose 3%.
Spending patterns have been encouraging for card companies in and outside the US due to ease, digitization, and the deployment of technology. The trend is expected to strengthen further with wearables and gesture-based technology adoption.
CCB's provision for credit losses grew $223.0 million to ~$1.5 billion, reflecting higher net charge-offs and reserves built up in the card business. This provision was partially offset by lower buildup in the mortgage business.
JPMorgan Chase's credit card and business card offerings face competition from consumer finance companies (XLF) such as American Express (AXP), MasterCard (MA), and Visa (V).