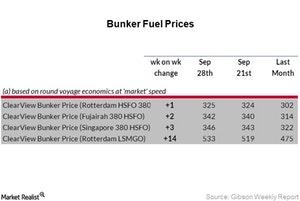 Bunker Fuel Prices Rose, Oil Hit a 2-Year High in Week 39
By Sue Goodridge

Updated
Week 39
In the previous part, we discussed that VLCC (very large crude carrier) and Suezmax rates rose following strong demand and tight supply. Suezmax rates rose 87% in week 39—the week ending September 29, 2017. In this part, we'll see how crude oil prices and bunker fuel prices fared in week 39.
Article continues below advertisement
Oil prices
Brent crude oil (DBO) prices hit a two-year high of $59.02 per barrel due to Turkey threatening to cut Kurdish crude exports. The bullish demand outlook also supported crude oil prices. The West Texas Intermediate crude oil price rose from $50.66 per barrel on September 22 to $51.49 per barrel on September 29, 2017. Brent crude oil prices rose to $57.41 per barrel on September 29 from $56.43 per barrel a week ago.
Bunker fuel prices
On September 28, 2017, the average bunker fuel price was $386.5 per ton—compared to $385 on September 21, 2017. According to the Gibson report for week 39, bunker fuel prices at Rotterdam were $325 per ton on September 28, 2017—up from $324 per ton in the previous week. Bunker fuel prices at the Port of Fujairah rose to $342 per ton on September 28 from $340 per ton on September 21, according to the same report.
Which companies were impacted?
Product tankers, LNG (liquefied natural gas) carriers, dry bulk carriers, and crude tankers all transport their products on ships. For all of these shipping companies, bunker fuel is one of the most important costs. Bunker fuel prices are closely related to oil prices. Any rise in oil prices translates to a rise in bunker fuel prices.
Some of the major crude oil tanker companies are DHT Holdings (DHT), Navios Maritime Midstream Partners (NAP), Teekay Tankers (TNK), Gener8 Maritime Partners (GNRT), and Euronav (EURN). Navios Maritime Partners (NMM) is a major dry bulk shipper, while Golar LNG (GLNG) and Teekay LNG Partners (TGP) are LNG carrier companies.