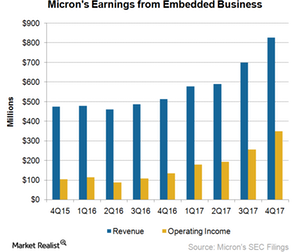 Bright Future for Micron's Embedded Business
By Puja Tayal

Updated
Micron's Embedded business
Micron's (MU) Mobile, Storage, and Compute and Networking businesses are reporting strong growth as memory content per device is increasing and as more people are adopting specialized memory. Embedded is a relatively new market as the advent of IoT (Internet of Things) is driving the demand for edge computing.
In edge computing, basic analysis happens at the device level. This requires the device to be equipped with memory, processor, and connectivity chips.
Companies like Intel (INTC), Qualcomm (QCOM), and NVIDIA (NVDA) are tapping the opportunity generated by edge computing. Micron is the key memory supplier of Intel and NVIDIA.
Article continues below advertisement
EBU revenues
Micron's EBU (Embedded Business Unit) revenues rose 18% sequentially to a record $827 million, beating the estimate of $715 million. This growth was driven by strong demand in the industrial and consumer home appliance sectors.
On a YoY (year-over-year) basis, Micron's EBU revenues rose 61%, driven by strong growth in NAND (negative AND) and LPDDR (low-power double data rate) MCP (multi-chip package) products. These products are increasingly used in applications such as home automation, machine-to-machine communications, surveillance, and drones.
Micron maintains its leadership in the automotive memory market with more than 48.0% share. The increasing connectivity and electronics content in vehicles is driving demand for automotive grade memory.
The company is looking to tap this opportunity through strong product execution. It significantly ramped up its 20-nanometer DDR (double data rate) and LPDDR technologies and started sampling its automotive-grade 1X DRAM (dynamic random access memory) in fiscal 4Q17.
EBU profits
EBU's fiscal 4Q17 operating income rose 36% sequentially to a record $348 million, equating to an operating margin of 42%. The profit rose due to increasing adoption of specialized memory that commands a higher price.
Future growth opportunities
As we move toward the connected world, more devices could require edge computing, driving demand for embedded memory solutions. NVIDIA's Metropolis platform and Intel's increasing investment in drones could serve Micron well.
The trend toward autonomous cars could significantly increase memory content per car. The memory content would not only increase in autonomous cars but other mid-tier cars as well. Micron is looking to capture maximum design wins so that it maintains a large market share when autonomous cars hit the road in 2020.