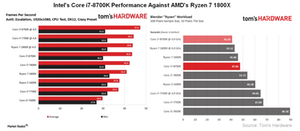 Behind Intel's Response to AMD's Ryzen: Coffee Lake Desktop CPU
By Puja Tayal

Oct. 25 2017, Updated 9:09 a.m. ET
Intel launches Coffee Lake
On September 25, 2017, Intel (INTC) announced its plan to launch its eight-generation Core processors for desktops on October 5, 2017. This saw NVIDIA's (NVDA) and Advanced Micro Devices' (AMD) stock prices fall 4.5% and 5%, respectively, on September 25.
Intel's eighth-generation Core desktop processors are built on the 14+ nm (nanometer) Coffee Lake architecture and are an addition to the eighth-generation Core laptop processors built on the 14+ nm Kaby Lake architecture. The Coffee Lake product line starts with the four-core, four-thread i3-8100 CPU (central processing unit), which is priced at $117.0, and ends at the six-core, 12-thread i7-8700K CPU, which is priced at $359.0.
Article continues below advertisement
Core i7-8700K targeted at gamers
Intel claims that the i7-8700K is its best gaming desktop processor to date. Its predecessor Core i7-7700K was also a good gaming processor, and the i7-8700K seems to be even better.
Intel claims that its eighth-generation is 32% faster than the seventh-generation and 65% faster than the three-year-old machine. It also claims that Coffee Lake offers 25% more frames per second on demanding games like Gears of War.
Intel's claims have been confirmed by third-party reviewers. Ars Technica stated that the i7-8700K is currently the best gaming CPU available in the market. It offers two extra cores, compared with its predecessor i7-7700K, and for a mere $40 extra. Extra cores lead to more heat and more power consumption, but this isn't usually a concern for gamers.
Tom's Hardware stated that Intel's i7-8700K performs better than AMD's Ryzen in single-threaded tasks such as gaming. But the additional cores make i7-8700K more competitive with Ryzen in non-gaming tasks, which can be seen on the Blender benchmark for multithreading.