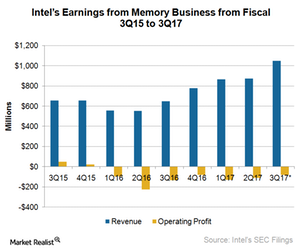 Behind Intel's Memory Strategy
By Puja Tayal

Updated
Intel's memory strategy
Intel (INTC) is targeting adjacent disruptive growth from complementary products like memory and accelerators. Data from IC Insights, Gartner, and World Semiconductor Trade Statistics have shown that memory will likely be the key growth driver of the semiconductor industry in 2017 and 2018.
Intel is tapping this growth with its NSG (Non-Volatile Memory Solutions Group), which offers memory products based on 3D NAND (negative AND) and 3D XPoint.
At the Deutsche Bank Technology Conference, Intel Vice President of NSG William Leszinske stated that NSG adopts two approaches: a platform-connected approach and a customer-inspired approach.
Article continues below advertisement
In the platform-connected approach, NSG focuses on building memory solutions that enhance client capabilities, data center, and embedded platforms. In the customer-inspired approach, Intel develops nonvolatile memory components and SSD (solid state drive) controllers and then write firmware to turn the commoditized memory into a solution for customers.
Notably, Intel is a leader in the enterprise SSD space, followed by Samsung (SSNLF) and Western Digital (WDC) at the second and third places, respectively.
NSG earnings
Intel's NSG revenues rose 57.7% YoY (year-over-year) to $874 million as it started shipping its first 3D NAND output in 4Q16.
In its fiscal 2Q17 earnings call, Intel CEO (chief executive officer) Brian Krzanich stated that the company will be ramping memory production at its China (FXI) plant and expects supply to grow ~20% in 2H17. As there's currently a supply shortage in the 3D NAND space, output could be consumed, and Intel's NSG revenue could then rise 18%–20% sequentially to over $1 billion in fiscal 3Q17.
Article continues below advertisement
Despite record revenue growth, NSG continues to operate in losses due to the huge expenditure in developing 3D XPoint-based Optane products and next-generation 3D NAND. Krzanich stated that Intel's Core NAND has returned to profitability and that its overall NSG would return to profits as well in fiscal 1Q18.
Intel's memory roadmap
Intel manufactures memory at three facilities, two of which are owned by Micron (MU). After four years of research, Intel has developed a complete ecosystem for 3D XPoint-based DIMM (dual in-line memory module) memory.
Leszinske stated that Intel's memory roadmap includes three generations of 3D NAND—32-bit, 64-bit, and the third generation—and three generations of 3D XPoint. He expects the 3D XPoint to have a "longer life of evolution than 3D NAND."