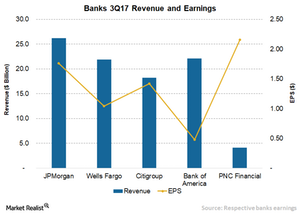 Banks' Trading Revenue Fell Sharply in 3Q17
By Peter Barnes

Updated
Mixed results
So far, banks (XLF) that reported their 3Q17 earnings showed mixed trends. JPMorgan Chase's (JPM) revenue and earnings comfortably beat consensus estimates. The bank reported revenue of $26.2 billion compared to an estimate of $25.23 billion and EPS (earnings per share) of $1.76 compared to $1.65. However, JPMorgan Chase's fixed-income trading revenue fell 27% to $3.16 billion. It was lower than $3.25 billion projected by FactSet. Jamie Dimon, the bank's chairman and CEO, warned in September of a possible fall in trading revenue ~20% in 3Q17.
Bank of America (BAC) posted upbeat results despite a 22% YoY (year-over-year) fall in the bond trading revenue. It reported EPS of $0.48 compared to the consensus estimate of $0.45 and revenue of $22.1 billion compared to $21.98 billion.
Article continues below advertisement
Citigroup (C) also reported better-than-expected results with a 3% YoY increase in global consumer banking revenue. The bank posted EPS of $1.42 compared to Thomson Reuters' consensus estimate of $1.32 and revenue of $18.2 billion compared to $17.9 billion. Citigroup's trading revenue fell 16% YoY to $2.9 billion.
Wells Fargo (WFC) reported revenue of $21.93 billion and missed analysts' expectations of $22.4 billion. The bank said its profits were hit by legal costs of $1 billion. The bank reported a slightly better-than-expected EPS of $1.04, which excluded $0.20 of charges related to an old litigation.
PNC Financial Services (PNC) reported stronger results with its net interest income rising 11.9% YoY to $2.35 billion. THe EPS rose 17.4% to $2.16—compared to analysts' expectations of $2.13.
Credit card lending losses
JPMorgan Chase and Citigroup boosted their consumer loan loss reserves in 3Q17—the biggest in more than four years. Both of the banks expect a rise in write-offs for the credit card lending business in the next few quarters. Citigroup thinks that the increase is coming faster than it expected.