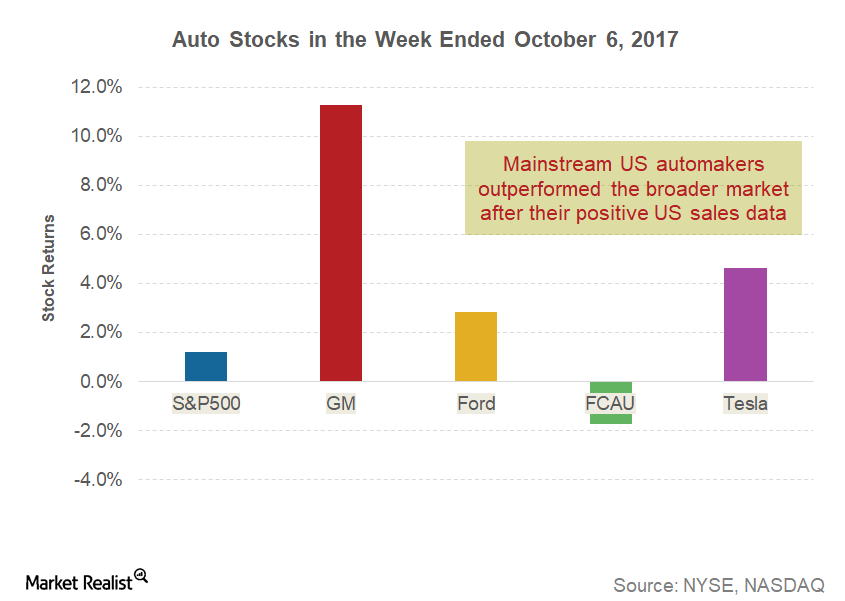 Auto Stocks Began October on a Strong Note
Auto stocks
In the week ended October 6, the broader market traded on a positive note and the S&P 500 benchmark (SPY) saw 1.2% gains. Meanwhile, the stocks of US automakers like General Motors (GM) and Ford Motor (F) continued to outperform the broader market. Last week, GM and Ford rose 11.3% and 2.8%, respectively.
Article continues below advertisement
Strong September US sales
Japanese automakers Toyota (TM) and Honda (HMC) also inched up by 2.3% and 1.8%, respectively, last week. Mainstream automakers' solid September 2017 US auto sales data could be the primary reason for this optimism. In contrast, Fiat Chrysler (FCAU) fell 1.7%, possibly due to its weak US sales data for September.
Tesla (TSLA) also turned positive and rose 4.6% last week after ending 3Q17 in negative territory. TSLA reported its third quarter production and delivery data last week. Read How Tesla's Production and Deliveries Are Shaping Up in 3Q17 to learn more.
According to Autodata, September US auto sales rose 6.1% on a year-over-year basis. Higher demand from hurricane-affected areas could be one of the key reasons for stronger September US auto sales (IYK) as people from these areas started looking for replacement options for their damaged vehicles.
Read What Boosted US Auto Sales in September 2017 for a detailed review of September US auto sales.
Series overview
In this series, we'll see how mainstream auto companies traded in the week ended October 6. We'll explore key updates from auto companies in the last few weeks. We'll also take a close look at some key technical levels for these auto stocks.
In the next part, we'll begin by looking at GM's recent stock price movement.