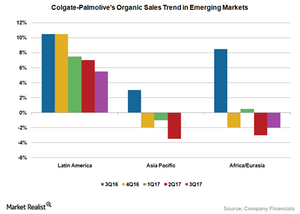 Analyzing Colgate-Palmolive's Sales in Emerging Markets
By Amit Singh

Oct. 31 2017, Updated 7:34 a.m. ET
Growth in Latin America
Colgate-Palmolive's (CL) top line in emerging markets benefits from strong performance in the Latin America region. In 3Q17, the company's net sales grew 6.5%, reflecting higher volumes (+3.0%) and increased pricing (+2.5%).
Favorable currency rates supplemented the company's top-line growth rate, and its organic sales increased 5.5% during 3Q17.
Colgate-Palmolive (CL) maintained its market leadership position in the toothpaste category in several markets in Latin America. Meanwhile, new product launches, in-store activity, and investment in advertising supported the sales growth.
Its volumes declined in Mexico, and Brazil marked improved sales, driven by new product launches.
Article continues below advertisement
Asia-Pacific remains soft
Colgate-Palmolive's sales in the Asia-Pacific region improved marginally, reflecting favorable currency movements. Volumes and pricing remained flat in 3Q17 as improved volumes in Greater China and the Philippines were offset by volume declines in India and Australia.
In India, the implementation of the GST (goods and services tax) and local competition negatively impacted its sales growth rate. However, the company expects these volumes to recover in India as the market stabilizes after implementation of the GST.
New product launches supported by increased advertising investments are projected to drive sales in this region.
Africa–Eurasia sees lower volumes
Colgate-Palmolive's sales in the Africa–Eurasia region witnessed lower volumes (-4.5%), mainly due to the distributor changes in the Sub-Saharan Africa region and weakness in the Middle East.
However, improved pricing (+2.5%) and favorable currency rates (+2.5%) led to a marginal increase in net sales.
Colgate-Palmolive's organic sales decreased 2.0% during the reported quarter, reflecting lower volumes. The company maintained its market leadership in several markets in the region, and Russia marked improved volumes.