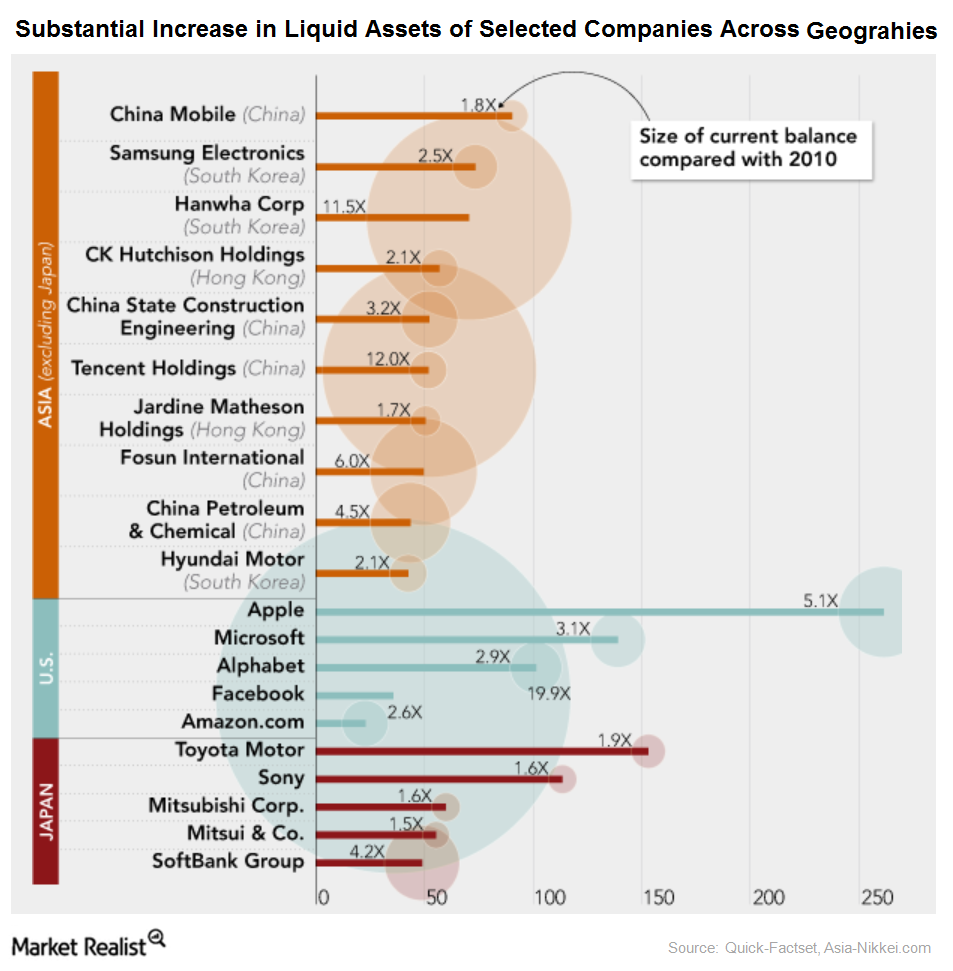 Why Some Analysts Are Optimistic about Apple Stock
Views on Apple stock
Previously, we discussed the effects of Trump's proposed tax reform on Apple's (AAPL) cash reserves. Apple is expected to be one of the biggest beneficiaries of the reform.
According to CNBC, Bank of America Merrill Lynch analyst Wamsi Mohan stated that "we look at two aspects of potential tax law reform and their implications on Apple," adding "we conclude that: existing deferred tax liability on the balance sheet could allow for substantially all of Apple's foreign cash to be repatriated to the U.S." He also stated that "given the access to the [repatriated] cash, investors will likely assign a higher multiple to shares of Apple." Bank of America Merrill Lynch feels that Apple's stock is poised for an upward journey thanks to the proposed tax reform.
Article continues below advertisement
Surge in liquid assets of prominent technology players
The above presentation by Nikkei Asian Review, a compilation of data from QUICK FactSet, shows how some prominent companies' liquid assets have grown across geographies since 2010. Liquid assets refer to cash reserves or assets that can be converted into cash quickly, with little or no loss in value. Money market instruments and government bonds are some frequently used liquid assets.
In the US technology sector, Apple's liquid assets have swelled by 5.1 times to $261.5 billion. Microsoft (MSFT) and Alphabet's (GOOG) liquid assets have grown by 3.1 and 2.9 times, respectively. Within this sector, Facebook's (FB) liquid assets have surged the most.