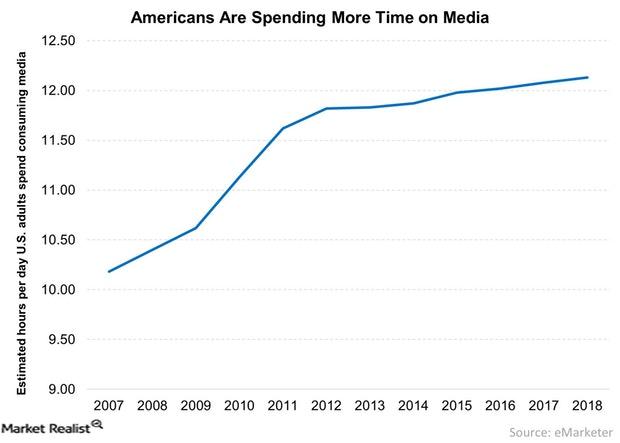 American Adults Are Spending More Than Half the Day on Media
By Sanmit Amin

Oct. 16 2017, Published 5:44 a.m. ET
US adults' media consumption
According to new numbers from research firm eMarketer, the average American adult will spend a couple of minutes more per day consuming media in 2017 than they did last year. The average US adult is now consuming media for more than half of the typical day.
According to the research firm's estimates, US adults will spend about 12.08 hours per day on media in 2017, compared with 12.02 hours per day in 2016 and 10.18 hours per day in 2007. As you can see in the graph below, the number has more or less plateaued over the past five years.
Article continues below advertisement
Americans are multitasking on smartphones
According to e-Marketer, individuals have likely improved in multitasking due to smartphone use. People can now watch TV and use social media apps like Facebook (FB) and Instagram at the same time. eMarketer counts each minute of media consumption time—even if it's simultaneous with other media—and so two hours of watching TV concurrent with two hours of using a smartphone counts as four hours.
While the average American adult still spends a lot of time on TV, the time spent on smartphones is increasing, according to the research. To be sure, time spent on smartphones has been increasing partly because you can now watch TV-like programming on smartphones through streaming services like Netflix (NFLX).