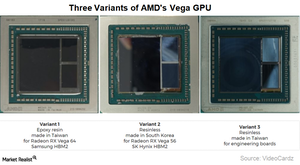 AMD's Vega GPU Faced with Production Challenges
By Puja Tayal

Updated
No custom Vega card in the market
Third-party reviewers suggested that Advanced Micro Devices' (AMD) new Vega 56 GPUs (graphics processing units) are likely to be picked by most gamers, as they offer better value for the money than NVIDIA's (NVDA) GTX 1070. However, the most pressing issue for AMD right now is making Vega GPU available in the market amid the cryptocurrency craze.
In a general GPU rollout, AMD and NVIDIA roll out their reference designs based on their package as the first cards. After that, they supply their cards to AIB (add-in-board) partners like MSI, Gigabyte, EVGA, Asus, and PowerColor. AIB partners package these GPUs in their custom designs by overclocking the GPUs, adding better coolers and other features.
However, AIB partners have been facing issues with Vega. It has been more than a month since AMD launched its Vega cards. Not a single AIB partner has released its custom GPUs because most of the Vega cards have been snapped up by cryptocurrency miners.
Tom's Hardware spoke to several AIB partners and made several findings. XFX and Sapphire have not decided on the release date, and PowerColor is facing DRAM (dynamic random access memory) shortage. 
Also, Gigabyte has not committed, MSI has given up on Vega, and Asus has delayed the launch of its cards until mid-October 2017. In our view, there is a high probability that even the custom cards would be swallowed up by crypto miners.
Article continues below advertisement
Vega production and design issues
The custom Vega cards have been delayed because of two production issues—design issues and memory issues.
THG stated that the Vega design has a twofold problem. Firstly, AIB partners are having difficulty overclocking Vega because of its variable design. Secondly, there are discrepancies in temperature being reported by the board and by AIBs.
HBM2 memory
The three variants of Vega cards have three different mounts, which makes mass production of cards difficult.
As the first card with molded mounts, Samsung (SSNLF) HBM2 (high-bandwidth memory) has the same height as the GPU.
The second card, which has unmolded mounts, Samsung HBM2 is 40 micrometers lower than the GPU.
The third card has a variant SK Hynix memory.
AMD took two years to launch Vega from the normal time of 12 months to 16 months. The HBM2 rollout was slower than anticipated. Moreover, the memory market has been going through a supply shortage, which increased memory prices. 
There are rumors that AMD is losing money on Vega 64 because of high memory prices. This has raised the question whether AMD would give up on HBM2 and adopt GDDR6 (double data rate type six synchronous graphics random-access memory) in future GPUs.
While Vega goes through manufacturing challenges, AMD's Ryzen has been doing pretty well. Next, we will look at Ryzen's performance.