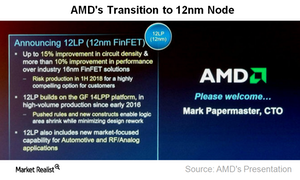 AMD to Reduce Technology Gap with GlobalFoundries' 12nm Node
By Puja Tayal

Updated
AMD would transition to 12nm node in 2018
Advanced Micro Devices (AMD) came back into the competitive landscape after launching its 14nm (nanometer) Ryzen CPU (central processing unit). Before Ryzen, AMD had a huge technology disadvantage as it was stuck with the outdated 28-nm (nanometer) node while Intel (INTC) transitioned to 14nm node in 2014.
According to Moore's law, every node shrink increases the number of transistors per die, improving performance and reducing cost and power consumption. AMD needs updated nodes to deliver better performance and power efficiency.
Article continues below advertisement
In September 2017, AMD's foundry partner GlobalFoundries announced its 12nm LP (low-power) node, which would begin production in 2018 and AMD announced that it would build Ryzen CPUs and Vega GPUs (graphics processing units) on the 12nm node. The company did not mention EPYC, which leaves a grey area if the server processor would also get an upgrade in process node.
NVIDIA (NVDA) is ahead of AMD, as the former is already using TSMC's (TSM) 12nm node to build its Volta GPU. Intel would also pass AMD in 2018 as it starts production on its 10nm node. This has made it even more important for AMD to transition to the 12nm node to stay competitive.
GlobalFoundries 12nm process technology
GlobalFoundries stated that the 12nm is not an actual node by definition but just an iterative improvement to the 14nm node. The company claims that the 12nm node would improve transistor density by 15% and performance by 10% compared to the 16nm node. These claims are similar to the claims made by TSMC and Samsung (SSNLF) for their improvements.
GlobalFoundries is launching 12nm to provide the most recent performance enhancement on the optical node before it moves to the first EUV (extreme ultraviolet) node with 7nm. The company expects 7nm to deliver 40% higher performance and 60% power reduction over 14nm.
AMD adopts Moore's Law Plus*
At Canaccord Genuity Growth Conference, AMD's chief technology officer, Mark Papermaster, stated that the company would stay on Moore's law even if the performance and cost befits are lower than the historical level.
However, it would not depend completely on Moore's law for performance improvement. It would use its multichip module approach wherein it would use various combinations of CPUs, GPUs, memory, and other accelerators to boost performance. It would also use software to optimize a chip for end-use applications. AMD calls this strategy Moore's Law Plus.