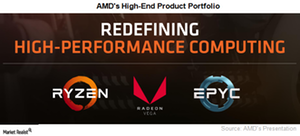 AMD Relies on Its New Products to Drive Growth
By Puja Tayal

Updated
AMD's turnaround story
Advanced Micro Devices (AMD) has undergone a turnaround in the last two years, and its stock moved from as low as $2 to as high as $16. At the Deutsche Bank Technology Conference, AMD's CFO, Devinder Kumar, noted that this turnaround resulted from the company's revamped product strategy and target market, a stable leadership team, and its focus on product execution.
Kumar stated that the company is focused on increasing its revenues and improving its financial position in 2017. AMD is launching multiple products across various markets such as gaming, cryptocurrency mining, and cloud computing, allowing the company to seek additional market share. 
In 2018, the company plans to shift its focus to increasing profits by launching a complete suite of premium products across all of its businesses.
Article continues below advertisement
AMD's new products
AMD took the market by storm in 2017 with its new products across various segments and price ranges. AMD's product flood started in March 2017 with the launch of Ryzen 7, its high-end desktop processor. AMD's Ryzen 7 was followed by the mid-range Ryzen 5 in April, as well as the low-end Ryzen 3 and entry-level Bristol Ridge in July.
In August, AMD shifted its focus to gaming. The company launched its high-performance gaming processors Ryzen Threadripper and Vega GPUs (graphics processing units). In September, it launched the commercial desktop processor Ryzen Pro. 
The company has not yet launched the mobile version of its Ryzen series. The mobile version would have built-in Vega GPUs.
AMD has made its biggest bet with the launch of its server products. In June, AMD launched its EPYC server processor. It is currently launching its Radeon Instinct GPUs for cloud computing. The company has partnered with Baidu (BIDU) and Amazon (AMZN) in its cloud computing efforts.
AMD's transition to advanced node
With Ryzen and Vega, AMD skipped two generations and transitioned directly from 28nm (nanometer) node to 14nm node. This transition helped AMD make its products competitive with those of Intel (INTC) and NVIDIA (NVDA).
While Ryzen desktop processors were well-received by the market, Vega has faced some issues in the gaming space as it fails to provide any significant performance leap over NVIDIA's GPUs. The strong GPU demand from crypto miners has elevated the prices of Vega GPUs, discouraging gamers from buying AMD's GPUs at premium prices. AMD has announced plans to transition Ryzen and Vega to Global Foundries' 12nm node in 2018 in order to stay competitive.
In this series, we'll look at the performance of AMD's new products and the factors impacting these products.