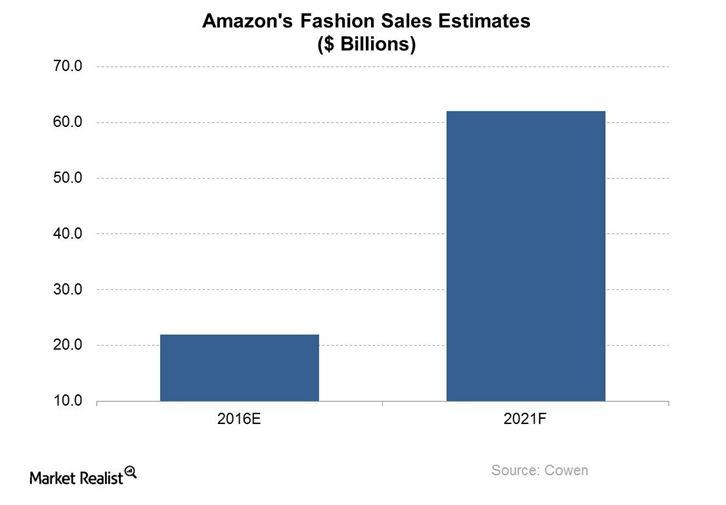 Amazon's Appetite for Fashion
Amazon targeting retail sectors
When Amazon (AMZN) reports its 3Q17 results on October 25, 2017, investors will want to see if the company's revenue is accelerating or decelerating. That's because of the stiff competition in Amazon's core e-commerce industry.
To drive more growth, Amazon is targeting retail sectors that have been slow to move online or have largely remained offline. These sectors include grocery and fashion. Let's take a look at fashion.
Article continues below advertisement
Global fashion industry was worth $2.4 trillion in 2016
According to McKinsey and the Business of Fashion, the global fashion industry was worth $2.4 trillion in 2016 and continues to grow. In the United States (SPY), the apparel industry was worth more than $200.0 billion after posting growth of 3.0%, according to a report by One Click Retail.
Whether in the United States or elsewhere in the world, most fashion sales still take place offline. Since the fashion industry presents a massive revenue potential, Amazon is leveraging technology to overcome the barriers that have kept people from buying clothes online. Products and services such as Prime Wardrobe and Echo Look and the acquisition of 3D body modeling provider Body Labs seem to fit into Amazon's strategy.
Significant top-line boost
Amazon's revenue for 2016 was $136.0 billion. The company could see a significant boost to its top line if it draws more US purchases to its platform. Expanding in the fashion industry could help Amazon step up competition with rivals Walmart (WMT), eBay (EBAY), and Alibaba (BABA), which have mimicked several of its strategies, including fast delivery, to try to compete.
Research and financial services firm Cowen estimates that Amazon's fashion sales, which were $22.0 billion in 2016, could rise to $62.0 billion by 2021. You can see that in the above chart.