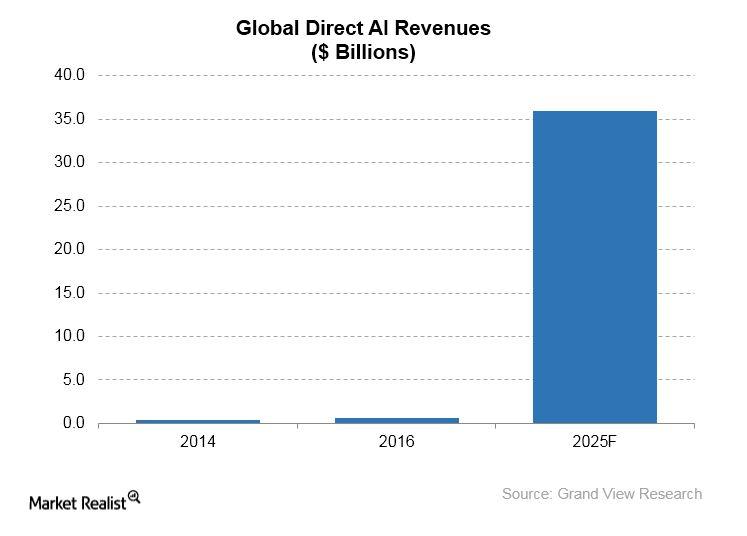 Alphabet Is Building Artificial Intelligence Team in China
Race for AI talent
Alphabet's (GOOGL) Google is reportedly hiring AI (artificial intelligence) engineers in Beijing, China, according to a company job posting. Google's move comes when its homegrown technology rivals in China, including Baidu (BIDU), Alibaba (BABA), and Tencent (TCEHY), have stepped up their AI research efforts with AI centers in China (MCHI) and the United States (SPY). Baidu and Alibaba already run R&D (research and development) centers in Silicon Valley, while Tencent is planning to open an AI research base in Seattle.
Baidu is China's leading Internet search engine company. Google's Internet search services and other products such as Google Play are blocked in China.
Article continues below advertisement
China hoping to become AI superpower
The race for AI talent in China could be what the Chinese government wants. Betting on innovations such as AI to bolster its economic fortunes, China is hoping to become the world's top AI innovation hub by 2030.
In seeking to set up an AI research base in China, Google may be interested more in taking advantage of the country's massive data trove than tapping into its talent pool. With its hundreds of millions of Internet users, China is a treasured source of data to fuel AI innovations.
According to Grand View Research, AI innovations will generate $35.9 billion in direct revenues by 2025, which is far more than $641.9 million in 2016, as you can see in the above chart.
Google maintains appetite for China
Although Google's search engine service is blocked in China, the company maintains a presence there. For example, it has an advertising sales team that is helping Chinese companies reach international customers.
Google is also making attempts to return to China's good graces so it can expand its operations in the country.