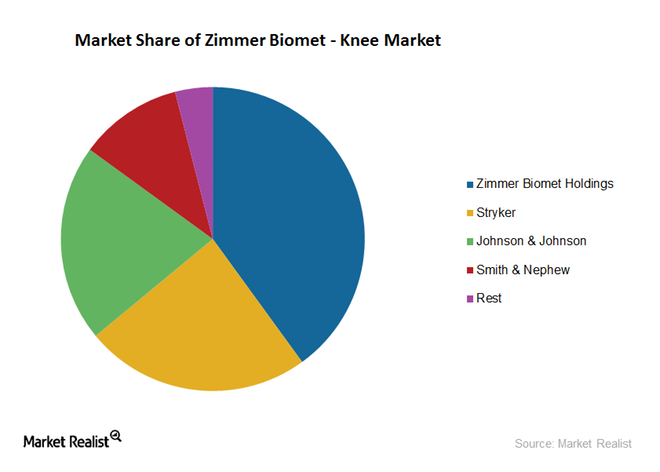 ZBH's Persona Partial Knee Launch Expands Knee Implant Portfolio
Overview
On September 11, 2017, Zimmer Biomet Holdings (ZBH) announced the launch of its Persona Partial Knee System. It's the latest addition to the company's Person knee implant systems, which are personalized and anatomically designed implant systems. The company stated that it's the first major product launch of the combined company after the acquisition of Biomet by Zimmer Holdings in 2015.
Zimmer Holdings had to divest its fixed bearing knee business for the merger to go through. The company will be able to participate in that segment of the partial knee market again and capture the lost market share with the recent launch of the Persona Partial Knee System. Depuy Synthes, a subsidiary of Johnson & Johnson (JNJ), Stryker (SYK), and Smith & Nephew (SNN) are some of the largest competitors of Zimmer Biomet Holdings in this market.
Some of the other key products in the Persona product portfolio pipeline include Persona TM Tibia cementless knee and Persona Revision, which are expected to be launched in the second half of 2018.
On September 11, 2017, ZBH stock rose around 0.1%. The Vanguard Value ETF (VTV) rose around 1.2%. VTV holds around 0.2% of its total holdings in ZBH.
Article continues below advertisement
Product details
In a ten-year global study, the Person Partial Knee System was used on 260 patients in the United States, Japan, and the EMEA (Europe, the Middle East, and Africa) region. In a continually expanding partial knee implant market, the Persona Partial Knee System provides an efficient alternative to traditional replacement techniques.
According to Dan Williamson, Zimmer Biomet's group president of joint reconstruction, "This innovative technology furthers our commitment to restore mobility, alleviate pain and improve the quality of life for patients around the world."
According to Daniel Florin, interim CEO and senior vice president and CFO, "The partial knee market continues to expand as patients demand alternatives to traditional knee replacement. The addition of the fixed-bearing Persona Partial Knee System complements the Company's mobile-bearing Oxford Partial Knee, further strengthening our leadership position in this growing market."