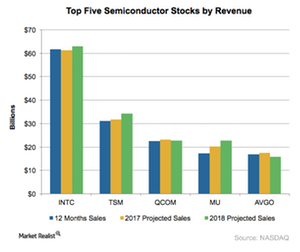 Your Top 5 Semiconductor Stocks by Revenue
By Puja Tayal

Updated
Revenue
Revenue is the most common variable to understand the size of a company, as all fundamentals from profits to cash flows are derived from revenue. The semiconductor industry was hit by a consolidation wave in 2015 and 2016, which saw some of the biggest M&A (mergers and acquisitions). This changed the industry demographics, and new names entered the list of top five semiconductor stocks by revenue.
Article continues below advertisement
The top semiconductor stocks by revenue
In calendar 2Q17, Intel (INTC) was the largest semiconductor company, with revenues of $61.7 billion over the past 12 months, followed by TSMC (TSM) at $31.1 billion, Qualcomm (QCOM) at $22.6 billion, Micron (MU) at $17.4 billion, and Broadcom (AVGO) at $16.9 billion.
Analysts expect Intel's, TSMC's, and Micron's revenues to grow in 2018, but they expect Qualcomm's and Broadcom's revenue to fall slightly in 2018.
Intel
For more than a decade, Intel has been the largest semiconductor company by revenue, as it dominates the industry's two largest revenue streams—personal computers and data center. Intel's top rank has been unbeaten, but now, Samsung (SSNLF) is threatening Intel's top position. Samsung's semiconductor revenue of $15.8 billion was higher than Intel's overall revenue of $14.8 billion, as high memory prices drove up former's revenue.
But Samsung's past-12-month semiconductor revenue is still lower than that of Intel, and we haven't included Samsung in our lists because semiconductors are not its core business.
Article continues below advertisement
TSMC and Qualcomm
TSMC is the largest third-party foundry in the world and the second-largest semiconductor company by revenue. But the company will likely lose its second-place rank in 2018, when Qualcomm completes its acquisition of NXP Semiconductors (NXPI). The acquisition should increase Qualcomm's annual revenue to $32 billion.
Micron and Broadcom 
Micron almost doubled its revenue after acquiring Japanese DRAM (dynamic random access memory) manufacturer Elpida in 2014. This brought Micron into the top five semiconductor companies by revenue. The company moved up to the fourth place in 2017 as the strong memory market environment drove the company's revenue.
Broadcom entered the list of top five companies by revenue after it completed the Avago-Broadcom merger in 2016, which almost doubled its revenue.