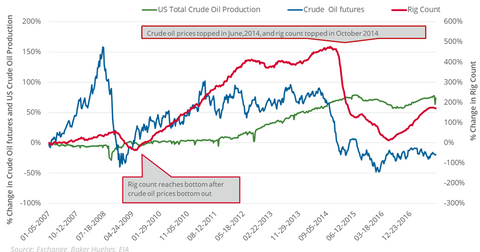 Will Oil Rigs Today Be the Foundation for US Crude Oil Staying above $50?
By Rabindra Samanta

Updated
The oil rig count
The US oil rig count contracted by seven and was at 749 in the week ended September 15, 2017. More importantly, that week was the fifth-straight week during which there was no rise in the oil rig count. US crude oil active futures rose ~2% during this time period.
Article continues below advertisement
US crude oil production back on track?
In the week ended September 8, 2017, US crude oil production was 2.7% below its peak of 9.6 million barrels per day during the week ended June 5, 2015. US crude oil production has now rebounded by 572 thousand barrels per day since Hurricane Harvey.
Since US crude oil's high closing price on June 20, 2014—before the three-year downturn in oil prices started—US crude oil production has risen 10.7%. This has happened even now that the oil rig count has fallen 51.5% and indicates the power of the drilled but uncompleted wells inventory. The rise in oil rig efficiency has helped, even though oil prices fell ~53.5% during this period.
Is the oil rig count consolidating?
In the past ten years, US crude oil (UCO) (USL) (DBO) prices and the US oil rig count have followed an interesting pattern. US crude oil prices have topped or bottomed out three to six months before the oil rig count.
US crude oil futures plunged to their 12-year low on February 11, 2016, and the oil rig count bottomed in the week ended May 27, 2016. From the low of 316, the oil rig count has more than doubled, and US crude oil production rose 7.1% during this time. Meanwhile, US crude oil prices rose 90.4%.
In the week ended August 11, 2017, the oil rig count was at a two-year high, and about six months earlier, on February 23, 2017, US crude oil prices closed at their 2017 high. So if this pattern holds true, the oil rig count could have reached its high in August 2017.
Based on the same pattern, a possible stall in the oil rig count could limit the upside in US crude oil production—a bullish catalyst that could help US crude oil prices stay above the psychologically important level of $50.
On a month-over-month basis, new-well oil production per rig could fall 1.7% in October 2017, which will be the second-straight monthly drop based on the EIA's (Energy Information Administration) Drilling Productivity Report released on September 18, 2017.
Notably, all these factors could benefit ETFs such as the Fidelity MSCI Energy ETF (FENY) and the Energy Select Sector SPDR ETF (XLE) because they have exposure to oil prices.