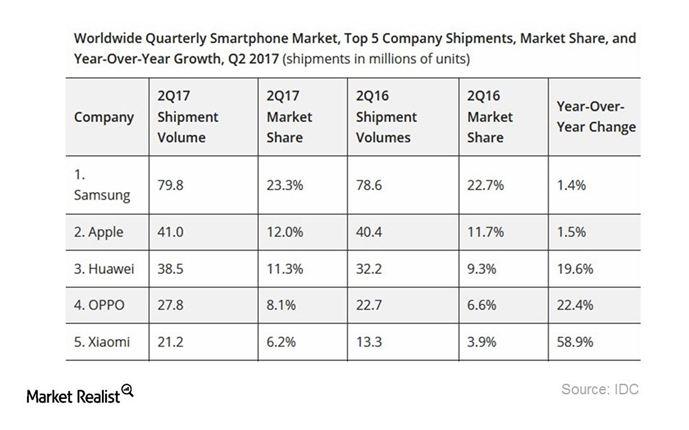 Will Higher Prices Hamper iPhone X Sales?
By Ruchi Gupta

Nov. 20 2020, Updated 5:13 p.m. ET
The most expensive iPhone ever
Apple's (AAPL) iPhone X not only carries the same price in dollars as it does in British pounds but also represents the most expensive iPhone in the company's portfolio. The basic model, which gives 64 GB (gigabytes) of storage, will cost $999 in the US (SPY) and 999 British pounds in the UK (EWU). The high-end model costs $1,149 in the US and 1,149 pounds in the UK.
At these price levels, the iPhone X is the most expensive iPhone Apple has ever sold. But will the steep prices dampen customer appetites for the product?
Article continues below advertisement
Smartphone market heating up with competition
Considering that Apple has struggled with weak demand for iPhones in recent quarters, many investors have a lot of hope that the iPhone X will turn around the company's phone success in the smartphone market. The high-end smartphone market is crowded, with Apple battling growing competitive threats from Samsung (SSNLF) and rising Chinese (MCHI) brands like Huawei and Xiaomi.
Apple customers have an affinity for expensive items
Given the high hopes in the iPhone X, a tepid uptake of the device could be damaging to Apple. But the iPhone X could fail for other reasons. According to the Wall Street Journal (citing an August survey by Barclays), Apple customers are apparently not afraid of high prices.
The survey showed that 19% of iPhone owners were willing to fork out as much as $1,200 for a new smartphone. In contrast, only 6.0% of Android owners reported a willingness to pay as much as for a new handset. This shows that on price alone, the iPhone X is likely within reach of a large portion of Apple customers.