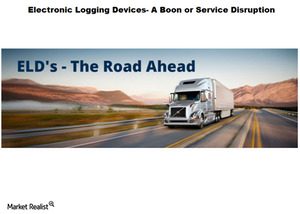 Will Electronic Logging Device Enforcement Affect LTL Carriers?
By Samuel Prince

Updated
Electronic logging devices
In this part, we'll see whether LTL (less-than-truckload) carriers will be impacted by ELD (electronic logging device) implementation. An ELD is electronic hardware that is put on a commercial motor vehicle engine that records driving hours. This device is used to electronically note a driver's RODS (record of duty status). The RODS system will replace the manual logbook used by many drivers.
Article continues below advertisement
Will ELDs disrupt LTL carriers?
On August 28, 2017, JOC.com cited the Commercial Vehicle Safety Alliance as saying, "Beginning April 1, 2018, inspectors will start placing commercial motor vehicle drivers out of service if their vehicle is not equipped with the required device." The alliance further stated, "the April 1 effective date for applying electronic logging device (or ELD) out-of-service criteria will give truckers and shippers time to adjust to the rule with minimal disruption to the delivery of goods."
The FMCSA (Federal Motor Carrier Safety Administration) has made ELD implementation mandatory beginning December 18, 2017. The regulatory change could disrupt the delivery of goods if carriers aren't prepared. Plus the possibility of a device shortage could also spell trouble for commercial motor carriers.
Many industry bodies led by the owner-operator Independent Drivers Association are demanding the implementation date be postponed for certain trucking operations such as drivers of rental trucks, according to JOC.com.
ELDs and less-than-truckload carriers
This rule could result in higher technology costs and additional maintenance and capital expenses across the trucking (IYJ) industry. Old Dominion Freight Line (ODFL) has ELDs attached to all company-owned trucks. Thus, the company believes that the ELD mandate won't impact its operations. ODFL's close peer SAIA (SAIA) also stated in its 10-K that it had implemented ELDs company-wide back in 2014.
YRC Worldwide (YRCW) disclosed that it is in the process of updating its fleet to comply with the ELD regulations. This could result in service disruptions by the company as the implementation date nears. XPO Logistics (XPO) works closely with independent contractors. The company believes that the ELD mandate may not be well-received by independent contractors. ABF Freight, ArcBest's (ARCB) subsidiary, has ELDs fully installed on its city and road tractors.
In the next section, we'll focus on the prospects of less-than-truckload carriers.