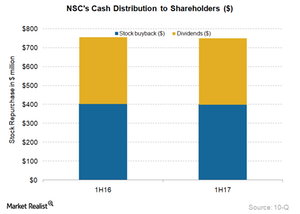 Why You Should Pay Attention to US Class I Railroads' Stock Buybacks
By Samuel Prince

Updated
US Class I railroads
Norfolk Southern's (NSC) announcement of an additional repurchase of 50 million common shares comes on the heels of the serious damage done by Hurricanes Harvey and Irma in the US. Today, the ultimate objective of such large companies is to maximize shareholders' wealth, and one way to achieve that is through increasing EPS (earnings per share), which can be done by raising net earnings or by reducing the shares outstanding.
Notably, peer railroad CSX (CSX) declared an additional stock buyback of $500.0 million in July 2017. With this additional repurchase, CSX's total estimated stock buyback is $1.5 billion.
Article continues below advertisement
US Class I railroads and buybacks
Cash is returned to stakeholders in the form of either dividends or share repurchases. Cash distributions in the form of dividend payments may be a part of the company's financial policy, but this may not be the case with stock buybacks. The share repurchase program's sole objective is to improve per-share earnings over a period of time.
Investors should note that normally, railroads won't indulge in stock buybacks if they are confident in future business growth, and so we have to consider the whole issue from an investor's perspective—particularly considering Norfolk Southern's timing of its buyback announcement.
Key details
Early in 3Q17, CSX stated that coal (ARLP) volumes in 3Q17 might not grow enough on a sequential basis—even though they'd risen on a YoY (year-over-year) basis. Some analysts and US coal producers believe that coal won't be able to return to its past glory. And if railroads (UNP) have confidence in their future business growth, they would either raise debt or reinvest profits back into their business.
Without a doubt, the distribution of cash in the form of stock buybacks points toward weak prospects ahead for railroads. But we can see the same sentiment in the reductions capital spending so far in 2017.
Meanwhile, the recent hurricanes on the US Gulf Coast and in Florida did enough damage to the slowly recovering railroads (XLI), and these disasters could put serious pressure on freight volume growth going forward.
Continue to the next and final part for our conclusion to this series.