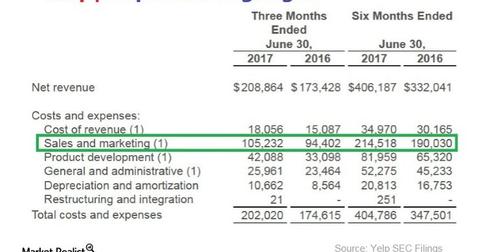 Why Yelp's Sales Expenses Are Rising
By Neha Gupta

Updated
Sales expenses up $10.8 million
Yelp's (YELP) costs tied to sales and marketing have been rising steadily in recent years. In 2Q17, for instance, sales and marketing expenses rose to $105.2 million from $94.4 million a year earlier. For the first half of 2017 (or 1H17), sales and marketing costs were $214.5 million compared to $190 million in a similar period last year.
On a yearly basis, Yelp's SG&A (selling, general and administrative) expenses were $480.3 million in 2016, up from $382.6 million in 2015 and $174.9 million in 2013.
Article continues below advertisement
Sales force hiring driving expenses
The above chart highlights various pieces of Yelp's costs and expenses for select periods. Why have Yelp's sales and marketing expenses been rising? The answer seems to lie in the company's hiring practice. An analysis of Yelp's headcount reveals an ongoing expansion of the sales team.
Yelp's headcount stood at 4,350 at the end of 2Q17 with its sales force representing 58.6% of its headcount. In the year between 2Q17 and 2Q16, sales hiring accounted for 75% of Yelp's headcount increase.
A powerful sales force to take on advertising rivals
It is worth noting that the expansion of Yelp's sales team and the increase in sales expenses have been matched by a corresponding increase in sales. Yelp's revenue rose 20% year-over-year to $208.9 million in 2Q17.
Yelp's sales hiring practice seems to be influenced by the company's attempts to build a powerful sales force that can take on larger rivals like Facebook (FB), Alphabet's (GOOGL) Google, Twitter (TWTR), and Verizon (VZ) in the online advertising market.