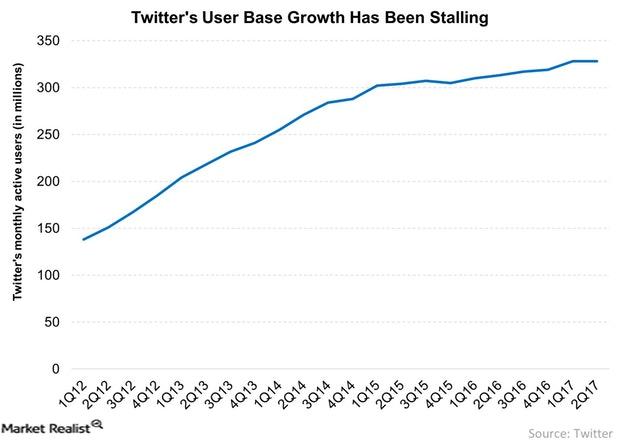 Why Twitter Wants to Increase Its Character Limit
Twitter to test new limit of 280 characters
Social-media company Twitter (TWTR) said that it will start testing a new limit of 280 characters. In the test, some of Twitter's users will get to tweet 280 characters. The current character limit is 140 characters. The move comes with the hope of getting more people to participate.
Twitter has been pondering increasing the character limit for some time now. Last year, the company considered increasing the character limit to as much as 10,000 characters. However, CEO (chief executive officer) Jack Dorsey didn't go ahead with the decision.
Article continues below advertisement
Twitter's monthly active users have topped out
Twitter is actively trying to boost its user base, which has not grown significantly for the past three years. As the graph above shows, Twitter's monthly active users have plateaued since 2014, before which it saw phenomenal growth in users. As of 2Q17, the platform's monthly active users stood at 328 million.
By contrast, Facebook's (FB) Instagram has seen its user base grow at a fast clip. Instagram mentioned earlier this week that the app now has 800 million monthly active users.
This has caused Twitter's top line to plunge for the past few quarters. In 2Q17, the company generated $573.8 million in revenues, which was 4.7% lower than in 2Q16. The company's stock has tanked by 27.7% over the past 12 months.