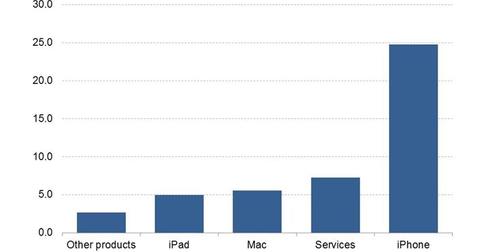 Why Such a Late Release for the iPhone X?
By Ruchi Gupta

Sep. 14 2017, Updated 4:05 p.m. ET
Apple won't ship flagship iPhone until November
Apple's (AAPL) flagship iPhones X won't be available on the market until November—a stark departure from the company's typical schedule of releasing new iPhones into the market in late September.
Apple launches new iPhone models in early September, and those products usually go on sale soon after that. But the iPhone X will be delayed by more than a month before it enters the market. The device, which carries the same price in US dollars as in British pounds, will go on sale on November 3.
Article continues below advertisement
Apple cuts off cobalt supply from artisan mines
The delay in releasing the iPhone X into the market is believed to be tied to production constraints. The device boasts a slew of new features, including camera and display upgrades. Apple suppliers could be facing difficulties producing iPhone X components.
However, it should be noted that Apple stopped purchasing cobalt mined by hand in the Democratic Republic of the Congo earlier this year. The company made the move as a risk-mitigation measure after media investigations revealed inhumane working environments in some artisan cobalt mines in the Congo.
The place of cobalt in iPhone
Cobalt is used to make the batteries that power iPhones and many other consumer electronic devices sold by Samsung (SSNLF), Microsoft (MSFT), Sony (SNE), and Alphabet's (GOOGL) Google.
It's unclear whether cutting off the supply of cobalt from artisan mines in the Congo is part of the reason Apple is facing iPhone X production constraints, leading to release delays. To be sure, the iPhone is Apple's largest source of revenues.