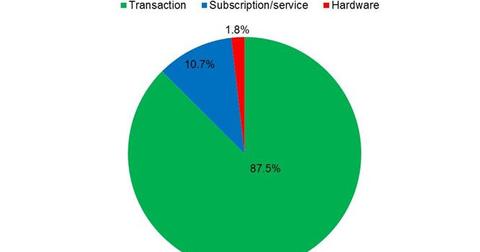 Why Square Opted for an Industrial Bank Model
By Neha Gupta

Updated
No-go zone for traditional banks
Square (SQ) is seeking an industrial bank license rather than a traditional bank license. Why? In deciding to go for an industrial bank license as opposed to a traditional bank license, Square chose the easy way out.
Industrial bank operators are allowed to engage in nonfinancial businesses, while nonfinancial activities are a no-go zone for traditional banks. Since Square engages in nonfinancial activities such as selling payment terminal hardware and offering online food delivery services, a traditional bank license didn't fit.
Article continues below advertisement
SFS to operate from Utah
If it obtains regulatory approval, Square's industrial bank unit will operate as Square Financial Services (or SFS), and it will be based in Utah. According to a recent Wall Street Journal report, some 16 industrial banks have been cleared to operate in Utah.
Square's bank partner for Square Capital, Celtic Bank, is also based in Utah. Square Capital, Square's credit arm, contributes to Square's subscription/services segment, where revenue rose 99% to $59 million in 2Q17 as illustrated above.
Walmart drops industrial bank bid
Notable financial technology companies like Square that have sought bank licenses in the US (SPY) include Varo Money, a mobile banking startup, and Social Finance (or SoFi), an online lender.
But industrial bank charters similar to the one Square is seeking have proved to be controversial. Walmart (WMT), for instance, was earlier this year forced to withdraw its application for an industrial bank license after the application drew widespread criticism mainly from bank lobbyists.
Major nonfinancial companies that have been cleared to operate industrial banks in the US include Target (TGT), General Motors (GM), and German (EWG) car maker BMW.