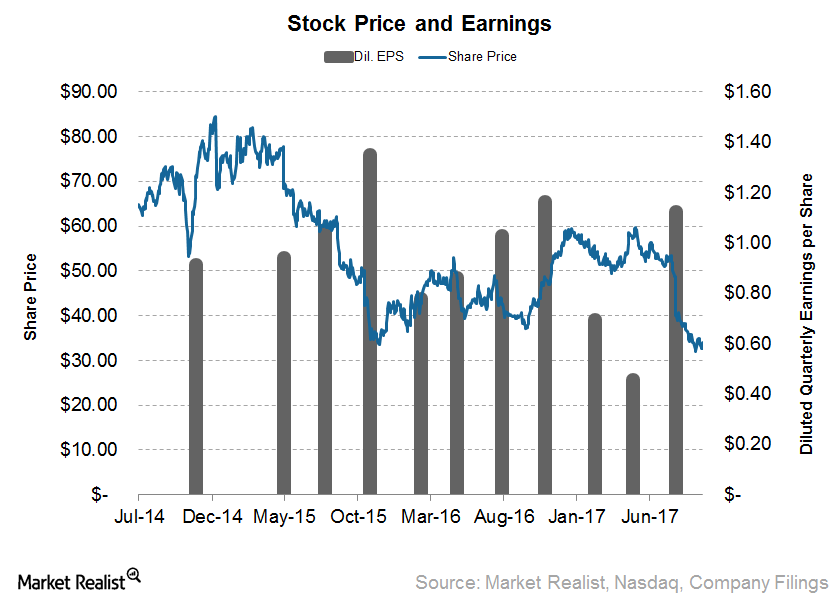 Why Spirit Airlines' Stock Has Lost 40% of Its Value in 5 Months
Spirit Airlines' stock
The problems for Spirit Airlines (SAVE) started in early May, when the company ended up canceling hundreds of flights. Since then, it's been problem after problem for the airline. Flight cancellations led to an ugly customer brawl at one of its airports. The situation worsened when the video went viral on social media. The airline has also had to deal with increasing competition and price discounting, leading to the guidance cut we discussed earlier in this series.
Article continues below advertisement
As a result, the stock is down almost ~40.6% since May. Most other airlines are also in the red, with the exception of American Airlines (AAL) and Delta Air Lines (DAL). AAL rose 8.6%, and DAL rose 6.0%. Spirit Airlines was the biggest loser, followed by United Continental (UAL), which has fallen 16.6%. Alaska Air Group (ALK) has fallen 14.3%, followed by JetBlue (JBLU), which has fallen 13.4%, and Southwest Airlines (LUV), which has fallen 2.8% in the same period.
Year-to-date performance
All major airline carriers have lost value so far in 2017, though the recent recovery has helped offset some losses. Spirit Airlines is the biggest loser, having fallen almost 41.2% year to date or YTD as of September 21. United Continental, which follows Spirit Airlines, has almost half those losses at 19.7%. Alaska Air has fallen 17.8%, followed by JetBlue, which has fallen ~15.7%. Legacy carrier American Airlines has fallen only 0.86% while Delta Air Lines has fallen ~2.1% YTD. Southwest Airlines is the only airline stock to record a rise in the period. It rose 9.6% YTD as of September 21.