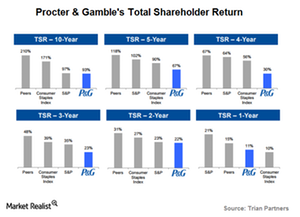 Why Procter & Gamble Is under Pressure from Nelson Peltz
By Amit Singh

Updated
Yacktman Asset Management supports Nelson Peltz
Procter & Gamble (PG) recently took a big blow when the company's long-term investor Yacktman Asset Management openly supported activist investor Nelson Peltz. Yacktman Asset Management, which holds about a $1.3 billion stake in the company, wrote an open letter to Procter & Gamble's board, expressing its support for Peltz being elected to the board of directors. The firm believes that it's in the best interest of the shareholders since Procter & Gamble has been struggling to hold its market share next to its competitors.
Article continues below advertisement
Unfolding the story
Procter & Gamble seems to be in a tussle with Trian Partners, of which Peltz is the CEO (chief executive officer). Trian Partners, which has a ~$3.5 billion stake in PG, is pushing for reforms and proposed that management add Peltz to the company's board of directors to revamp its operations. The firm added that consumer product companies on which Peltz serves on the boards have been showing improved performance and are generating better earnings growth.
Trian Partners outlined in a presentation that PG's total return to its shareholders has fallen to a half over the last decade and that PG has lost ground across all major categories to which it caters. Also, it claims that the company's bureaucracy, complex organizational structure, and inefficient costs management are hurting shareholders' returns. The presentation further added that Trian is not seeking to replace the company's current CEO and is not proposing to break up the company.
In response, Procter & Gamble's management urged its shareholders not to vote in favor of Peltz. The company argued that Trian's proposals are outdated and flawed and that Peltz is not the right candidate for Procter & Gamble's best-in-class board.
Article continues below advertisement
Procter & Gamble added that the company has outperformed its peers in terms of its returns to shareholders, returning about 28.0% since November 1, 2015. In comparison, peers Church & Dwight (CHD), Kimberly-Clark (KMB), Clorox (CLX), and Colgate-Palmolive (CL) have lagged the company and delivered lower returns. Procter & Gamble added that companies own which Peltz is on the board have delivered about 4.0% in shareholder returns since November 1, 2015.
Procter & Gamble believes that the company's strategy is clearly working as reflected through the increased sales in key markets, including China (FXI). The company holds the market-leading position in seven of ten categories to which it caters.
Going forward, it remains a wait-and-watch story whether Peltz gets a seat on the board since three of the company's largest investors, including the Vanguard Group, haven't shown their cards yet.
Series overview
In this series, we'll focus on Procter & Gamble's performance in the recent past and analyze the company's sales and profitability. We'll also look at analysts' recommendation for PG stock.