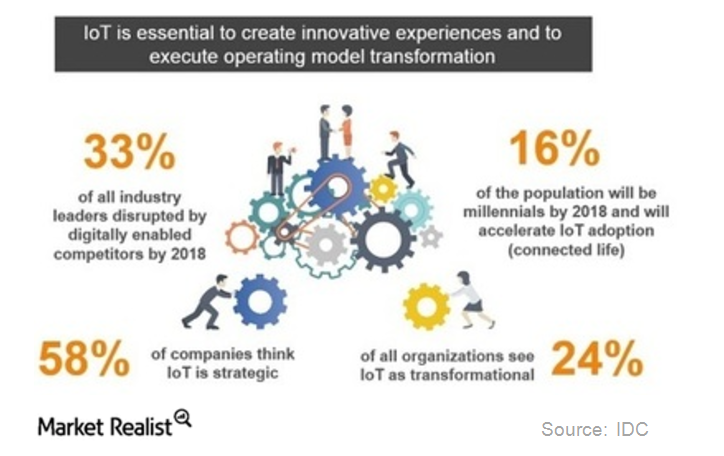 Why Oracle's Enhancement of Its IoT Portfolio Is Major News
By Anne Shields

Sep. 13 2017, Updated 7:41 a.m. ET
Enhancements to Oracle's IoT cloud
Earlier this month, Oracle (ORCL) announced enhancements to its Oracle IoT (Internet of Things) cloud, offered as a PaaS[1. platform-as-a-service] and SaaS[2. software-as-a-service] product.
AI (artificial intelligence) and machine learning are the new built-in features that power the Digital Thread and Digital Twin capabilities of Oracle's IoT cloud. With these enhancements, customers would not only gain increased visibility, but they can also gain predictive insights from connected devices. These insights can lead to cost reductions, improved business outcomes, increase in deployment times, and acceleration of new market opportunities.
According to Bhagat Nainani, group vice president at Oracle, "IoT holds the potential to transform today's siloed operations into a modern, interconnected, digital set of workflows with real-time visibility and responsiveness."
Article continues below advertisement
IoT, AI, and ML are the key technologies driving the next computing cycle
In the last six months, Oracle's IoT ecosystem of device and systems integration partners was upgraded more than three times. AI and ML technologies are believed to increase efficiency, as they provide companies access to unstructured data such as pictures, sensors, music files, and videos, creating a new growth avenue. This explains why these two technologies are expected to drive the expectations of $2 trillion in spending in the next new computing cycle.
IBM (IBM) estimates that there will be more than 30 billion connected devices by 2020, leading to an exponential surge in the volume of data generated. If we go by Oracle's estimates, 50 billion IoT devices are expected to be on the market by 2018. 
However, Oracle noted that finding value from IoT is arduous for organizations because of ambiguous ROI (return on investment) and implementation challenges. By integrating IoT into its operations, Oracle hopes that its customers would be able to achieve meaningful results with this technology.