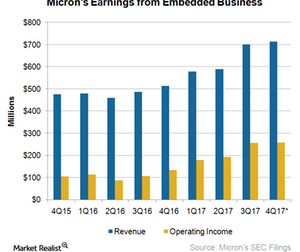 Why Micron's Research Efforts Are Focused on the Embedded Market
By Puja Tayal

Updated
Micron's Embedded Business Unit 
Embedded is an emerging market where the demand for memory is set to grow. Embedded is a broad market ranging from consumer to industrial to automotive. Here, there is demand for specialized memory depending upon the IoT (Internet of Things) application.
Micron's (MU) EBU (Embedded Business Unit) earnings have been growing steadily for the past two years, irrespective of the memory pricing trend. This is because the unit supplies specialized memory products that have unique features, which help it command a higher price.
Micron is looking to expand in the specialized memory market in order to reduce its exposure in the commoditized memory space and bring some stability to its earnings.
Article continues below advertisement
Micron and Microsoft partner for IoT solutions
Micron has partnered with Microsoft (MSFT) to provide cybersecurity at the hardware of an IoT device. Micron's new IoT security technology Authenta, which it announced at the Hannover Messe 2017, is integrated into flash memory inside the IoT device. 
Authenta uses a hardware "root of trust" to establish a strong, secure link between that IoT device and the Microsoft Azure IoT cloud. Microsoft's support of Device Identity Composition Engine would ensure that only trusted hardware is linked to the IoT cloud.
Opportunity for Micron in cybersecurity solutions
This partnership opens up a whole new opportunity for Micron's EBU. According to RightScale's State of the Cloud report, the adoption of Microsoft's cloud services by businesses has increased from just 26% in 2016 to 43% in 2017, opening a whole new customer base for Micron to pitch its IoT cybersecurity solution. The IoT security space is expected to grow at a CAGR (compound annual growth rate) of 16.5% between 2016 and 2020.
Article continues below advertisement
Micron's solutions for autonomous vehicles 
At the Mobile World Congress Americas, Micron announced its plans to develop higher bandwidth GDDR6[1. double data rate type six synchronous graphics random-access memory] memory solutions for autonomous vehicles. It is working with leading automotive partners and customers such as NVIDIA (NVDA) to develop GDDR technologies for level four and five autonomy.
Micron is currently supplying automotive-grade LPDDR (low-power DDR) memory solutions with up to 100 Gbps (gigabytes per second) system bandwidth. Micron stated that an autonomous vehicle would require 300 Gbps bandwidth and at least 1 TB (terabyte) of memory storage capacity by 2020.
In front of the press panel at MWC Americas, Micron's vice president of EBU, Jeff Bader, said, "High-performance memories such as Micron's GDDR will help accelerate the overall system capabilities of connected vehicles by providing the raw performance that will initially be needed to achieve full autonomy."
Micron's EBU revenues are expected to grow significantly in fiscal 2018 as its customer NVIDIA starts shipping the autonomous car platform at the end of 2017.
In the final article in this series, we will look at Micron's cash flow and balance sheet.