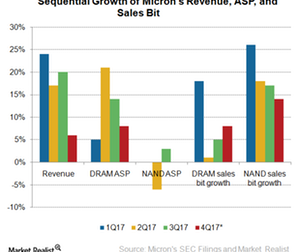 Why Micron Is on the List of Top 5 Semiconductor Stocks by Revenue
By Puja Tayal

Updated
Micron's memory business
The memory market environment has been favorable for memory makers since October 2016 with tight supply conditions fueling memory prices. Pure-play memory suppliers like Micron benefit the most from the memory uptrend. Micron (MU) earns 64% of its revenues from DRAM (dynamic random access memory) and 31% from NAND (negative AND).
Article continues below advertisement
Three key factors in the memory market
Three factors drive a memory supplier's earnings: ASP (average selling prices), cost per bit, and sales per bit (volumes). A higher ASP and sales bit growth drive revenues.
ASP
Over the last three quarters, Micron's revenues rose 24%, 17%, and 20% sequentially as DRAM ASP rose 5%, 21%, and 14% sequentially. The revenues rose faster than DRAM ASP due to an increase in sales volume and a richer product mix.
DRAM contract prices were flat in June and July 2017 but rose on August 31, 2017. PC and mobile customers like HP Inc. (HPQ) and Apple (AAPL) reduced their gross margin estimates for calendar 3Q17 due to high memory prices. This could result in a single-digit sequential increase in Micron's DRAM ASP in fiscal 4Q17. 
Goldman Sachs analyst Mark Delaney expects mobile DRAM prices to increase 10% in 2H17 as memory makers shift their capacity to manufacture server DRAM.
On the other hand, Micron's NAND ASP rose for the first time in eight quarters in fiscal 3Q17. This is because the NAND contract price rose significantly on March 31, 2017. Since then, NAND contract prices have been more or less flat with a slight increase in July 2017. 
This trend could result in Micron's NAND ASP remaining flat in fiscal 4Q17. As a result, any growth in Micron's NAND revenues would primarily result from an increase in sales volume.
Article continues below advertisement
Sales bit growth
Micron's DRAM sales bit growth slowed in the first two quarters of fiscal 2017 from 18% to 1% due to softness in mobile DRAM. However, sales bit growth picked up in fiscal 3Q17 to a 5% due to an increasing demand for server DRAM. This trend could continue in fiscal 4Q17 with DRAM sales bit expected to grow in the high-single digits.
NAND sales bit saw double-digit increases in the last three quarters—26%, 18%, and 17%—as 3D NAND constituted a larger portion of Micron's overall NAND output compared to its competitors. However, competitors like Intel (INTC) and SK Hynix bought their first 3D NAND output to the market in 2H17, which could see Micron's NAND sales bit growth slow to the low to mid double digits in fiscal 4Q17.
Micron's revenues
Micron expects its fiscal 4Q17 revenues to increase 6% sequentially to $6.0 billion, which is higher than the consensus estimate of ~$5.6 billion. Analysts find the company's guidance to be conservative and expect its revenues to surpass $6 billion in fiscal 4Q17. This would send the company's fiscal 2017 revenues up 61% YoY (year-over-year) to more than $20 billion. Such high growth has put Micron in the list of top five semiconductor stocks by revenue.
Next, we will look at Micron's profits.