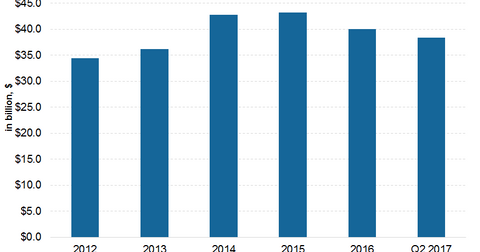 Why Kinder Morgan's High Debt Level Still Remains a Concern
By Kurt Gallon

Updated
Kinder Morgan's total outstanding debt
Kinder Morgan's (KMI) balance sheet position has improved considerably since 2015. That could be attributed to some major steps, including dividend cuts, project level JVs (joint ventures), and, most recently, the Canadian IPO (initial public offering).
As a result of these measures, the company reported an 11.3% fall in total outstanding debt since 2015 through June 30, 2017. It got rid of more than $1.7 billion in outstanding debt over the first two quarters of 2017 using the proceeds generated from the Kinder Morgan Canada IPO.
However, the company still has a whopping $38.3 billion debt sitting on its balance sheet. Of that, $2.8 billion is maturing over the next 12 months.
Article continues below advertisement
Kinder Morgan's leverage
Kinder Morgan reported a net debt-to-adjusted EBITDA (earnings before interest, tax, depreciation, and amortization) multiple of 5.1x at the end of the second quarter. It expects to end 2017 with a leverage multiple of 5.2x due to the shift in some expansion capex (capital expenditure) to the second half of the year from the first half of the year. KMI's current leverage and 2017 target leverage is above industry standards. Midstream companies generally target a leverage multiple between 4.0x and 4.5x. Its leverage is also above its target multiple of 5.0x.
KMI's high leverage remains a concern amid uncertainties in the energy sector. Commodity price volatility results in KMI's earnings volatility due to its higher crude oil exposure. That could drive KMI's leverage higher.
On achieving a leverage target multiple of 5.0x, Kinder Morgan's CFO (chief financial officer) said, "The deleveraging is going to come through two methods. One as EBITDA grows, as these projects come on. And two, because we are funding our projects with 100% equity because we are funding it with the retained cash flow. And so we will continue to make progress towards the five times, but it's going to be a little slower in reducing that leverage than we have been to date because we are returning some value to shareholders at this point in time given that we have a little bit more flexibility with our balance sheet."
Next, we'll look at KMI's dividend growth plans.