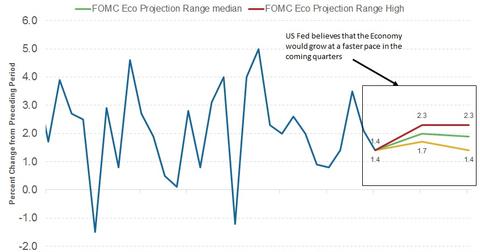 Why John Williams Feels Interest Rates Are Only Halfway There
By Ricky Cove

Updated
John Williams feels things are booming in the Bay area
John Williams, president of the Federal Reserve Bank of San Francisco, in an interview with CNN on August 15, 2017, said that technology (XLK) companies in the San Francisco Bay area are booming, and he sees no issues similar to the dot-com bubble. He said the job market is growing at a steady rate and unemployment levels have fallen from more than 10.0% in 2008 to 4.3% currently. Williams said that the overall US economy is doing well and doesn't need much further help from the Fed.
Article continues below advertisement
Williams on interest rates and fiscal policy
When asked about interest rates, Williams said we are only halfway through the interest rate hikes. He feels the Fed should gradually increase interest rates from the current 1.25% to 2.5%. He added that even at 2.5%, interest rates in the United States will still be lower than historic levels but that lower interest levels seem to be the new normal for the global economy.
Williams's view on fiscal policy
Sharing his thoughts on the proposed tax reforms and fiscal spending, Williams said the fiscal policies, when implemented, are unlikely to have any major impact on the US economy. He said that fiscal spending even to the tune of a trillion dollars isn't going to shift the direction of the US economy or the Fed.