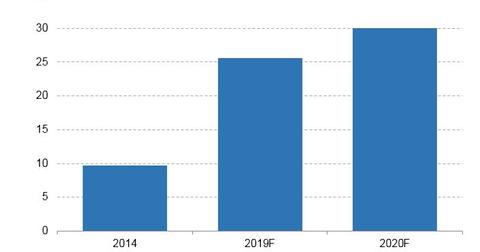 Why Is Intel Sponsoring the Olympics?
By Ruchi Gupta

Updated
Technology partner
Intel (INTC) has become an Olympics partner, which would allow it to contribute technology to enhance the spectator experience of the high-profile global sports event.
However, the timing of Intel's entry as an Olympics sponsor is revealing. This sponsorship occurred only a few days after fast-food giant McDonald's (MCD) announced that it was ending its Olympics sponsorship after decades as a partner. We'll discuss McDonald's exit from the Olympics in the next article.
Article continues below advertisement
Intel's sponsorship runs through the 2024 Olympics
Intel has signed a commitment with the International Olympic Committee (or IOC) as a sponsor through the 2024 Summer Olympics games. Its first Olympics sponsorship is expected to be the 2018 Winter Olympic Games in Pyeongchang, South Korea.
As an Olympics sponsor, Intel is bringing technology to the global event such as artificial intelligence, virtual reality (or VR), 360-degree video systems, and drones.
With Intel's Olympics move, the tech giant joins existing sponsors such as Samsung (SSNLF), General Electric (GE), and Alibaba (BABA).
Why the Olympics and why now?
For Intel, the Olympics provide a global stage for the company to showcase its advances in emerging technologies. As its core computer processor business cools off, Intel is hunting for new revenue drivers. It has been pursuing opportunities in emerging technology fields such as virtual reality, autonomous driving, and the IoT (Internet of Things) economy.
While these emerging tech markets are promising, the IDC predicts that the IoT installed base could surpass 30 billion devices by 2020. As a result, the market is rapidly becoming crowded. In addition to innovation, Intel needs to find other ways to stand out from the crowd. By becoming a major sports sponsor, the company can garner publicity for its technology and products among an enthusiastic consumer demographic.