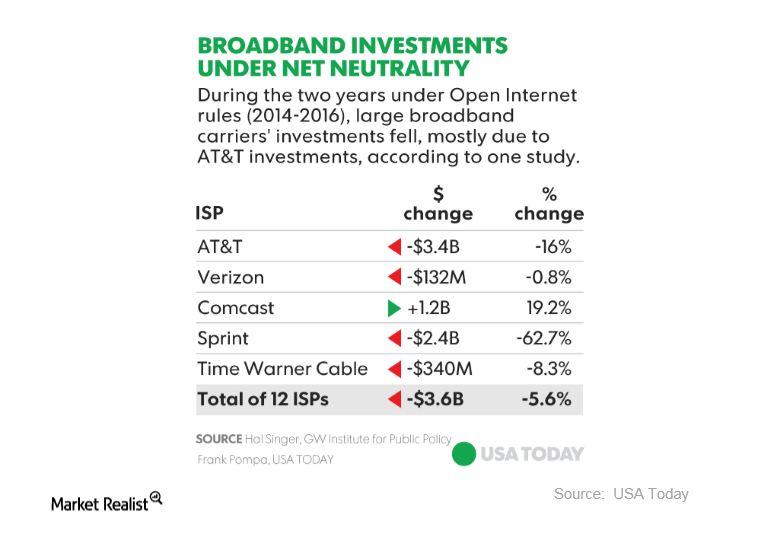 Why Comcast Bemoans Net Neutrality
By Ruchi Gupta

Sep. 19 2017, Updated 8:07 a.m. ET
Was the Internet "fine" before Title-II?
Comcast (CMCSA) laments that the existing net neutrality rules, wherein broadband carriers are regulated like utilities, have caused more harm than good in the company's view. It argues that the Internet was just fine before the FCC (Federal Communications Commission) under the Barack Obama administration decided to subject ISPs (Internet service providers) to Title-II regulations.
Comcast posits that the Internet grew at a tremendous pace between 2005 and 2015 when ISPs had not been regulated under Title-II. During that period, Comcast says fixed and mobile connections jumped from 50 million to more than 350 million.
Comcast also argues that Internet connections greater than 10 Mbps (megabits per second) rose from 5.0% as a percentage of overall Internet connections to 80%.
Article continues below advertisement
$1.5 trillion in investment
Comcast also holds that the environment before Title-II regulations encouraged ISPs to invest, arguing that American ISPs invested $1.5 trillion in broadband infrastructure. Comcast believes that the investment created an ideal environment for Internet companies such as Alphabet's (GOOGL) Google and Amazon.com (AMZN) to thrive.
But Title-II regulations, according to Comcast, have stifled investment and innovation by broadband carriers including it and peers like Charter (CHTR).
Broadband capex down for first time in years
According to USTelecom, a trade association that represents companies like Frontier Communications (FTR), CenturyLink (CTL), and AT&T (T), 2015 marked the first time since 2009 that broadband capital expenditures have dropped. USTelecom notes that overall broadband capex fell ~$1.0 billion to $76.0 billion in 2015.
Other various studies and analyses have shown that broadband carrier investments fell 5.6% between 2014 and 2016—at least partially due to net neutrality.