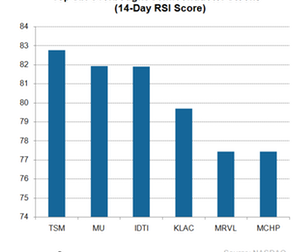 Why Are TSM, MU, and KLAC among the Top 6 Overbought Semi Stocks?
By Puja Tayal

Updated
Relative strength index
High trading activity shows if investors are interested in a stock. Investors can either be bullish or bearish about a stock, which can lead to the stock being overbought or oversold.
Technical analysts use RSI (relative strength index) to measure the intensity of investor sentiment, and RSI is measured on a scale of zero to 100, with less than 30 indicating that the stock is oversold, and greater than 70 indicating that the stock is overbought. For instance, the large trading activity in Qualcomm (QCOM) is pushing the stock into the oversold category with a 14-day RSI score of 39.
Article continues below advertisement
Top six overbought semiconductor stocks
A stock that is overbought is likely to witness some price correction if there's no news that can hold investors' optimism. As of September 12, 2017, TSMC (TSM) was the most overbought stock, with a 14-day RSI score of 83, followed by Micron (MU) and Integrated Device Technology (IDTI) at 82, KLA-Tencor (KLAC) at 80, and Marvell Technology (MRVL), and Microchip (MCHP) at 77.
All these stocks are trading near their 52-week highs, and Wall Street analysts are bullish on these stocks, except for TSMC and KLA-Tencor.
Will the above stocks continue to outperform?
Analysts believe that Micron, IDTI, Marvell, and Microchip stocks are a good buy, even at their 52-week highs. The consensus price target for the four stocks is higher than their 52-week highs.
Analysts calculate the price target of a stock by applying a price ratio to their estimates for the company's earnings and cash flows for the next few quarters. Analysts' optimism still tells us that these stocks still have strong growth potential. If this growth trend continues, their 52-week highs could become the new normal for these stocks.
In the case of TSMC and KLA-Tencor, there's a high possibility of some correction coming in the short term. TSMC's stock price rose on orders for Apple's (AAPL) A11 processors used in the iPhone 8, but this seasonal trend will likely cool down by the end of 2017.
KLAC's stock price rose as it secured equipment orders from foundries that were transitioning to the 10 nm (nanometer) node. These orders have started to cool as foundries have almost completed their transition.