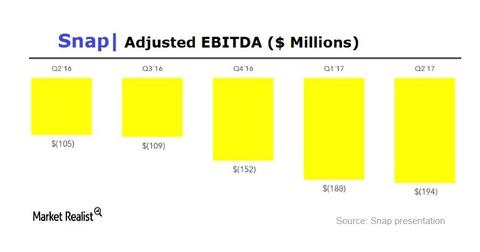 Why a Snap Buyout Isn't an Easy Call
By Neha Gupta

Updated
Google tried to snap up Snap for $30 billion
After Facebook (FB) was unable to acquire Snap (SNAP)—then known as Snapchat—in 3Q13, it turned to WhatsApp as a second choice. Snap turned down Facebook's $3.0 billion buyout offer. Under pressure to appeal to Millennials, Facebook purchased WhatsApp for ~$19 billion in February 2014.
A report emerged in August 2017 that Alphabet's (GOOGL) Google has also attempted to acquire Snap. According to Business Insider, Google floated a $30 billion offer for Snap in early 2016, but Snap spurned the offer. Google's offer was nearly double Snap's market cap.
Article continues below advertisement
A valuable asset
Snapchat's young, active audience makes Snap a valuable asset for companies seeking to mine its data in an effort to strengthen their own businesses. Microsoft's (MSFT) $26 billion purchase of LinkedIn was largely data-driven.
For example, Google could use Snapchat's data trove to strengthen its social media play and to improve its ad target for better ROI (return on investment) for advertisers. Google could also use the lessons it learned from its Google Glass project to transform Snap's Spectacles into a more powerful device for the AR (augmented reality) market. There is more than $100 billion in revenues to be had in the AR sector.
By joining forces, Snap could benefit from Google's financial depth and research expertise to bolster its innovation efforts, which could allow it to shrug off losses quickly. Snap reported an adjusted EBITDA[1. earnings before interest, tax, depreciation, and amortization] loss of $194 million in 2Q17, as shown in the chart above.
Co-founders tightly control Snap
As much as Snap may unlock tremendous value for its shareholders (QQQ) by selling itself, the company's ownership structure makes such a transaction difficult. During its IPO (initial public offering), Snap sold shares without voting rights. As a result, Snap's co-founders have full control over the direction of the company—including not selling it for $30 billion.